Corrugated Box Printing NYC
Custom Corrugated Box Printing in NYC
The right cardboard and paper boxes for your business needs can be hard to find, when quality is what you're looking for. Here at Thomas Group Printing, our family-owned business has been creating custom printed products since 1912, and quality has long been the backbone of our services. 
The need for high-end custom boxes, especially corrugated and paper boxes, has been on the rise as specialty products have become the driving force for many small businesses. With our high-end printing capabilities and attention to detail, Thomas Group can offer our clients the kind of custom packaging that not only stands out from the competition, but enhances your marketing and brand in the process. 
Thomas Group is focused on bringing unmatched quality to your printing needs, and our printed boxes are no exception. In addition to using quality materials in all of our finished products, we offer pricing that is competitive and designed to fit into your budget. 
Corrugated and Paper Boxes Printed to Fit Your Needs
Thomas Group Printing offers remarkable custom boxes designed with all of your needs in mind. Our boxes come in a variety of sizes and are created with precision and care to ensure every detail of the project is crisp and clear. 
Our boxes are crafted with each client's specifications, producing a final custom packaging solution that meets branding needs and creates an eye-catching and memorable impression. Many clients use our printing services to create custom boxes that feature their company logo, which helps them enhance brand recognition, all while giving their customers the highest-quality packaging.
Corrugated boxes can be specially printed and designed for mailing products or packaging them for any number of purposes, and our lighter weights of paper boxes are excellent for specialty packaging, such as for cosmetics, medical products, and other niche industry needs.
Box printing can also be combined with other specialty services we offer, like embossing, die-cutting and foil stamping, for a standout appearance. We also can help you or your company create matching branded products across all your printed materials, coordinating your specialty boxes and packaging with other business items like business cards, envelopes and letterhead, sales displays and media kits, lookbooks and calendars.
Let Thomas Group

Help

Have a tight deadline? Need the product as fast as possible? You've come to the right place. Thomas Group is a fourth-generation, family-owned company based in Manhattan. We've always worked at the pace of this great city, and we are able to get your product in your hands faster than most printing companies thanks to our use of courier delivery that makes delivery to anywhere in the five boroughs a fast and efficient option. 
And don't worry if you live outside of New York City; we offer fast nationwide shipping as well. Just let us know what you need for your custom packaging and box needs and we'll help your vision turn into a reality.
Why Print with Thomas Group?
We've been serving NYC's largest and most innovative companies with quality commercial printing services for four generations, so we have the experience and ability to make even the wildest projects a reality. We offer a few additional benefits for your convenience: 
Same Day Rush Printing
Need it fast? No problem. We move at the speed of the city. When submitting your project, ask us about our same day/next day printing options and we'll help you out with rush printing to bring your job from concept to reality quickly.
Courier Delivery
Need your print job sent straight to your office? We provide our clients with courier delivery anywhere within New York's five boroughs. If you're located outside of the city, we ship nationwide.
Pre-Press Services
With four generations of experience, there's little our seasoned pre-press team hasn't seen. We offer pre-press services to make sure your design files are in good working order before sending the job to press.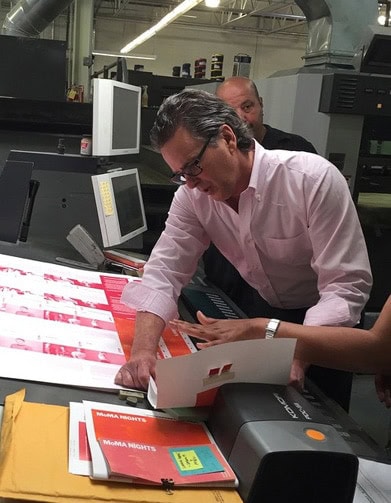 About Us
Thomas Group Printing NYC is a full service, commercial printing company with extensive experience in all phases of the printing process.We provide our clients with a broad range of sheetfed, web and digital print capabilities. Our state-of-the-art technology enables us to assist you with a wide range of products and services.
Since 1912, we've served some of New York's largest and most innovative companies with quality commercial printing services. We're proudly a fourth-generation family owned and operated company, so we know what it takes to earn and keep your business. 
Make an Impact with Print
In today's cluttered marketing environment you can still make a tangible, memorable impression on your customers with print. Convey your message in a durable, detail-rich format that they'll be able to hold, touch and share. Here are a few samples of projects our clients have created with us to do just that: