Custom vinyl prints are a high-impact way to get a message across for businesses, whether you want to draw the eye of customers or passersby on the street, or make your employees or clients feel like a room is where something big can happen.
Our custom vinyl printing offerings can be designed to fit your conference or meeting room, your storefront windows, the space behind your reception desk, or anywhere else you need an eye-catching window or wall. Vinyl graphics are also an ideal way to direct visitors through museums and galleries, and can add artistic or educational weight to their experience while looking elegant and professional. Plus, they're easy to clean and can last for years. Durable vinyl offers water and UV resistance along with full-color design for a quality product that our customers can rely on.
Thomas Group uses advanced digital printing technologies to deliver your high-quality, custom vinyl print projects of any size, shape or kind. We can print in large formats and create the perfect window or wall vinyl for your business needs.
Window Vinyl Printing
Window vinyls are perfect for storefront windows or glass interior walls, with their ability to provide an unobstructed view from within and an attractive design on the outside. We use a perforated window vinyl material to create your custom vinyl prints, which can be printed on one side and clear on the other for a one-way view. This versatile material is great for advertising or promotional signs on store or vehicle windows. These can be used indoors or outdoors, and are waterproof and UV-safe, so they will stay bright, colorful and crisp for years.
Wall Vinyl Printing
Wall vinyls are made of a similarly thin and tough material as our window vinyls, but don't need to be see-through. They also can be used both indoors and outdoors, and are waterproof and UV-safe, so they won't fade over time if exposed to sun or rain. Wall vinyl prints allow you to add color and design elements to walls, hallways, and floors anywhere in your business. Direct foot traffic with informational floor graphics, or make your common spaces a testament to bold design.
Other Vinyl Services
If you're looking for vinyl stickers, decals, banners and other custom-printed vinyl, we can do those too. Vinyl banners are an attractive and cost-effective promotional method that falls under our banner printing services. Stickers and decals can be made to suit any advertising campaign, in-house event, promotional giveaway, or brand-building effort with employees and customers.
We always make an effort to help our customers with same-day and next-day printing availability, and offer courier delivery anywhere in NYC's five boroughs, from our Manhattan location. For our customers outside the city, we also use fast nationwide shipping to get your project into your hands as quickly as possible. If you have any questions about the options available for vinyl printing with Thomas Group, please feel free to contact our friendly, knowledgeable staff online anytime.
Why Print with Thomas Group?
We've been serving NYC's largest and most innovative companies with quality commercial printing services for four generations, so we have the experience and ability to make even the wildest projects a reality. We offer a few additional benefits for your convenience: 
Same Day Rush Printing
Need it fast? No problem. We move at the speed of the city. When submitting your project, ask us about our same day/next day printing options and we'll help you out with rush printing to bring your job from concept to reality quickly. 
Courier Delivery
Need your print job sent straight to your office? We provide our clients with courier delivery anywhere within New York's five boroughs. If you're located outside of the city, we ship nationwide. 
Pre-Press Services
With four generations of experience, there's little our seasoned pre-press team hasn't seen. We offer pre-press services to make sure your design files are in good working order before sending the job to press.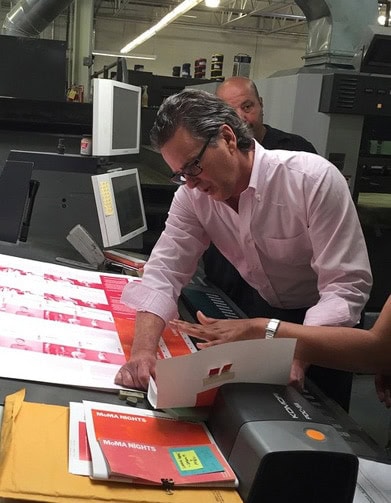 About Us
Thomas Group Printing NYC is a full service, commercial printing company with extensive experience in all phases of the printing process.We provide our clients with a broad range of sheetfed, web and digital print capabilities. Our state-of-the-art technology enables us to assist you with a wide range of products and services.
Since 1912, we've served some of New York's largest and most innovative companies with quality commercial printing services. We're proudly a fourth-generation family owned and operated company, so we know what it takes to earn and keep your business. 
Make an Impact with Print
In today's cluttered marketing environment you can still make a tangible, memorable impression on your customers with print. Convey your message in a durable, detail-rich format that they'll be able to hold, touch and share. Here are a few samples of projects our clients have created with us to do just that: