Direct Mail Printing in NYC
Thomas Group Printing offers our customers full-service direct mail printing, from choosing the perfect material to personalizing messages to each recipient. We can work with every kind of direct mailing need, whether that's financial, political, nonprofit, business-to-business, business-to-customer, or any other time you need a good mailing campaign.
Every campaign is different, and we take the time with each customer to assess what kinds of printing and direct mail products will best fit your needs. For instance, a political mailing might need a glossy, eye-catching oversize postcard, while a shareholder report might need to include coordinated envelope printing.
Thomas Group has been in business in Manhattan since 1912, and our focus is delivering your print projects with impeccable quality and attention to detail, and providing thoughtful, complete customer service.
Examples of our direct mail printing work:
Direct Mail Printing Options
We use digital printing to deliver high quality and fast turnaround times, and our finishing and mailing departments offer services to complete your order, like envelope stuffing, personalization, foil stamping and perforation. Want your company seal embossed on the envelopes or a detachable coupon on the bottom of your mailer? We can do those and many other options that can make your direct mail products stand out.
We'll work with you to design the right direct mail campaign using our expertise in production and direct marketing. There's no need to try to coordinate a direct mail campaign through three different vendors; we're here to take care of it from start to finish.
Options for materials, finishes and sizes are as varied as each customer needs, and can include, for example, specialty cardstock, glossy paper, and full-color or spot color printing. Types of products we can use in your direct mail order might include envelopes, postcards, advertising "checks," letters, folded mailers, and even booklets and catalogs.
Variable Data Printing
This kind of direct mail printing allows you to personalize each piece of mail that goes out, using our digital printing services. Variable data means the information on each piece can vary, whether that's a customer's name in a certain place, a specific offer customized to their interests, or a personalized message. Variable data printing is available in both black-and-white and full color.
Our direct mail customers find that this approach often results in good customer response and an effective marketing campaign. It also can help add a personal touch to EDDM or every-door direct mail going out to an entire zip code, for instance. The personalization can be as simple or as complex as you need, and this type of variable data direct mail is a cost-effective way to build relationships with customers or other recipients. You can target as few or as many customers as you like, thanks to our flexible digital printing methods.
Fast Service & Delivery
All our print projects are delivered via messenger for our NYC clients, and fast shipping is available for those outside the city. We welcome you to get in touch with any questions about our direct mail capabilities or to get a fast, no-hassle quote on your direct mail printing project.
Why Print with Thomas Group?
We've been serving NYC's largest and most innovative companies with quality commercial printing services for four generations, so we have the experience and ability to make even the wildest projects a reality. We offer a few additional benefits for your convenience: 
Same Day Rush Printing
Need it fast? No problem. We move at the speed of the city. When submitting your project, ask us about our same day/next day printing options and we'll help you out with rush printing to bring your job from concept to reality quickly. 
Courier Delivery
Need your print job sent straight to your office? We provide our clients with courier delivery anywhere within New York's five boroughs. If you're located outside of the city, we ship nationwide. 
Pre-Press Services
With four generations of experience, there's little our seasoned pre-press team hasn't seen. We offer pre-press services to make sure your design files are in good working order before sending the job to press.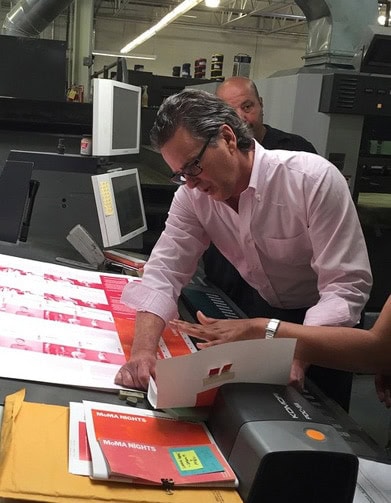 About Us
Thomas Group Printing NYC is a full service, commercial printing company with extensive experience in all phases of the printing process.We provide our clients with a broad range of sheetfed, web and digital print capabilities. Our state-of-the-art technology enables us to assist you with a wide range of products and services.
Since 1912, we've served some of New York's largest and most innovative companies with quality commercial printing services. We're proudly a fourth-generation family owned and operated company, so we know what it takes to earn and keep your business. 
Make an Impact with Print
In today's cluttered marketing environment you can still make a tangible, memorable impression on your customers with print. Convey your message in a durable, detail-rich format that they'll be able to hold, touch and share. Here are a few samples of projects our clients have created with us to do just that: