Fast Offset Printing, Done Right Here in NYC
When you have a large printing job, offset printing is often the best way to get a good result. Thomas Group Printing has been operating in NYC since 1912, and while offset or lithographic printing has been around even longer, it remains a great choice for high-quality, sharp printing at large volumes.
Why Offset Printing?
Instead of digital printing, which is perfect for smaller projects, offset lets us run thousands of pieces at a high speed. Plus, it makes large print runs much more affordable, since it becomes cheaper as you print more. The process works by transferring the image to be printed from a printing plate to a flexible rubber sheet on the press, and then to paper. It may sound complex, but it produces clear, defined images at high volume in a way that digital printing can't match.
Products That Work With Offset Printing
Offset printing can be used for any job needing a high volume of print products. That can include annual reports, catalogs, magazines, posters, and brochures. Any order that's higher than 2,500 – 5,000 pieces or so is a great candidate for using offset printing. The large paper sheets used in this printing process also mean our customers aren't limited by size when they need larger products done. We can print full color, spot color, specific PMS color and even add coatings to protect the quality of the final product.  Offset printing offers a wide variety of paper choices. The bigger presses can also print on heavier stocks than the digital machines can.
Examples of Offset Printing Projects We've Done:
We Deliver Quality Offset Jobs Fast
With many offset printing companies, you have to schedule work far in advance, and can't expect a short turnaround time. Thomas Group Printing is different. Our Manhattan location allows us to deliver faster to NYC print clients and make good on our quick-turnaround promises. The quality produced in offset printing is also noticeably high, with clean lines and bright colors carefully rendered.
How We Work
Thomas Group Printing is a fourth-generation, family-owned company serving all five boroughs of NYC with a wide range of commercial printing services. We pride ourselves on quality and speed, and focus on good service. Thomas Group Printing offers messenger delivery anywhere in NYC and fast shipping nationwide for our customers' convenience.
For a fast, friendly quote for offset printing in NYC, or if you'd like to discuss whether offset printing would fit your project well, contact us at (212) 947-6400, or through the form below.
Products Commonly Printed in Offset
Offset printing works especially well for large runs of materials. To learn more about products we commonly print in offset, click any of the project types below. Is the project you have in mind not listed? Just send a note to one of our print specialists and we'll be happy to guide you towards the best way to print your project. 
Annual Reports
An impactful annual report can showcase your company's strengths and share the story of where you've come from & where you're going. Let us help you produce a document that you'll be proud to share with stakeholders and employees.
Books
For large runs of books with quantities exceeding 2,500, offset printing produces an end-product that's flawlessly printed and cheaper per piece than printing digitally. 
Catalogs
When you need a large quantity of catalogs, offset printing is the way to go. Printing your catalog in offset allows us to make large print runs while keeping cost per piece low.
Magazines
It's easier than ever for your business, nonprofit, school, club or organization to create its own magazine, and when you're ready for printing, we have a variety of methods to get your magazine into the hands of its readers. Thomas Group Printing offers both traditional offset printing and digital printing for large or small print runs.
Newsprint
Printing on newsprint is a great way to create unique documents with a retro feel. Thomas Group Printing is a family-owned, fourth generation printer that offers newsprint printing in NYC. We've helped many companies in the New York area and beyond print large and small run newsprint projects on newsprint paper.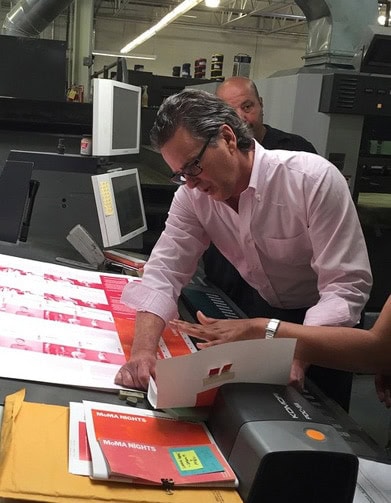 About Us
Thomas Group Printing NYC is a full service, commercial printing company with extensive experience in all phases of the printing process.We provide our clients with a broad range of sheetfed, web and digital print capabilities. Our state-of-the-art technology enables us to assist you with a wide range of products and services.
Since 1912, we've served some of New York's largest and most innovative companies with quality commercial printing services. We're proudly a fourth-generation family owned and operated company, so we know what it takes to earn and keep your business. 
Make an Impact with Print
In today's cluttered marketing environment you can still make a tangible, memorable impression on your customers with print. Convey your message in a durable, detail-rich format that they'll be able to hold, touch and share. Here are a few samples of projects our clients have created with us to do just that: