About Thomas Group Printing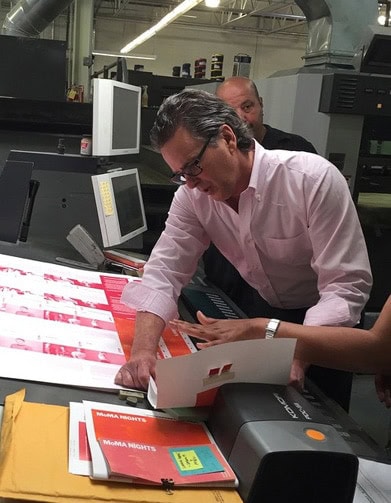 About Us
The Thomas Group is a full service, professional NYC printing company with extensive experience in all phases of the printing process.We provide our clients with a broad range of sheetfed, web and digital print capabilities. Our state-of-the-art technology enables us to assist you with a wide range of products and services.
Since 1912, we've served some of New York's largest and most innovative companies with quality commercial printing services. We're proudly a fourth-generation family owned and operated business, so we know what it takes to earn and keep your business. 
Proudly Family Owned and Operated Since 1912.
Thomas Group Printing has been a family business since 1912. Jamie and Glen Thomas are the third generation of owners and have managed the daily operation since 1973. Glen's son, Rory Thomas, represents the fourth generation.
We pride ourselves on hard work, dedication to our craft, and customer service. It worked for our ancestors over a century ago and we believe it contributes greatly to our success today.
Our Customers
We've had the pleasure of working with some of NYC's largest and most innovative brands.
A Full-Service NYC Printing Company
We offer our clients a wide range of custom printing services. With four generations of print experience, we have the expertise to bring any project to life, created to your exact specifications for maximum impact. 
Digital & Offset Printing
Bookmarks
Business Cards
Media Kits
Sales Sheets
Stationery
· Rampage Ripping System
· Fuji Luxel Final Proof
· HP DesignJet
· Epson Stylus Pro Large Format Proofer
· Screen Platesetter
· Epson Color Scanner
· Igen Digital Machine 14.33×26
· HP Indigo 3550 Digital Press
· Xerox 700
· KBA Rapida 105 – 41″ 8-Color 4/4 Perfector with Coater
· 29″ x 41″ Max Size Heidelberg Speedmaster XL105 – 41″ 6-Color with Coater (29″ x 41″)
· Ryobi 4/C
· Ryobi 2/C
· Wavejet Inkjet Printer
· Kirk Rudy tabber/stamper inline
· Bryce W790 Inkjet
· Bryce 11K inkjet
· Bryce 13K inkjet
· Pitney Bowes DM1000
· BH Inserter
· Laminator
· Polar Cutter
· Perfect Binder
· Saddle Stitch
· Wir-o Bind
· Folder
· Scoring
· Perforating
· Hole Punch
· Round Corner
· Shrink Wrap
· UV Coater
· Cutter
· Dick Moll
· Die Cutter
· Full Size Folders
· Stitcher
· Foil Stamping
· Silk Screening
· Poly Covers
· Zund L-2500 Dieless Digital up to 1″ cut to shape
· Jet-i flatbed UV system, 300 dpi,5′ x 10′ Max prit area, 2″ Max thickness
· HP Design Jet- Wide Format Printer- Digital Machine
· Roland 54″ print & cut XC-540
Make an Impact with Print
In today's cluttered marketing environment you can still make a tangible, memorable impression on your customers with print. Convey your message in a durable, detail-rich format that they'll be able to hold, touch and share. Here are a few samples of projects our clients have created with us to do just that: