High-Quality Media Kit Printing
When you need a high-quality media kit or press kit produced on a deadline, get in touch with the Thomas Group team. We understand the two things that put a great media kit in your hands: Immaculate quality, and a fast turnaround time. Most media or press kits need to be created on short deadlines, but without sacrificing quality. Our experienced press team can make rush and short-run printing jobs happen fast, and high-end results are one of our promises to all of our customers.
Press or media kits are used across a variety of industries and nonprofits, to help the media report and cover a special event, product release, trade show, business news, merger, campaign launch, or other newsworthy happening. The goal is to help get media coverage by providing the information, photos, resources and graphics a media outlet might need to use in their story. That means it's important to have an error-free, easy-to-digest, and attractive press kit to maximize your opportunity for media exposure.
Media Kit Printing Options
We use digital printing to customize your media kit from front to back. Eye-catching colors, beautifully rendered photos, and well-designed text are easy to set up just the way you want them with our versatile digital printing capabilities. There's no need for a minimum order — if you want to send your press kit to just a dozen hand-picked reporters, we'll print a dozen. If you want to blanket the national media with hundreds of kits, we'll print however many you need.
Our in-house paper selection allows you to choose from a range of paper types, weights and finishes. High gloss to matte, heavy to light; there are many choices for your media kit. You may want to include different kinds of products in your press kit, such as easy-to-reference brochures or informational flyers. Media kits often accompany seasonal or special-event lookbooks, which we can print as a well-matched package to enhance your branding and marketing efforts.
Further customization might take the form of specialty binding or finishing services. We provide embossing, foil printing, engraving, die-cutting, hole-punching or perforation, and other finishing touches that can make your media kit a delight to read and easy to use. Binding options include saddle stitch, wire-o binding for convenience, or perfect binding for a more formal product.
Our Approach to Customer Service
Thomas Group is a fourth-generation family-owned business, and proud to be located in Manhattan. Our convenient location near the center of many NYC industries makes it possible for us to get time-sensitive media kits to you quickly, and we offer courier delivery to anywhere in the city's five boroughs. If you're outside NYC, fast nationwide shipping is available. Talk with our seasoned print team to get a quote or ask any questions about our media kit printing services.
Elizabeth Fox
17:22 03 Dec 21
great quality and service, on short notice too!
Juan Carlos Aguirre
18:18 30 Nov 21
Craig Damrauer
15:28 24 Nov 21
I really love working with these guys. They were helpful and patient when I didn't quite have all the answers and the work is just perfect.
Shirley Mow
16:17 21 Nov 21
Great guys to work with; excellent job! Excellent work and timely!
Camerin Stoldt
20:30 09 Nov 21
Really great team! Communicative and helpful in finding solutions for our project. Fast turnaround and attention to detail, beautiful final product.
Shiana Madray
17:20 29 Oct 21
The team was great and worked through the process with me of having look books printed! They turned out great and couldn't be happier.
Rachel Mitrani
20:32 28 Oct 21
The only printer in NYC that was able to print newspapers I designed for a client, so thankful I found you guys. They came out perfect too, very high quality. Thank you so much Rory!!!
Mohammad Rabaa
17:01 27 Oct 21
Rory's team does amazing work - we worked with them on some newsprints for our business and they turned out amazing! Can't recommend enough- super responsive, understanding, and collaborative.
Claudia Minnett
23:40 07 Oct 21
Great outcome and great communicators! Rory was such a great help to work with xx
Marissa Lauber
22:00 06 Oct 21
Rory @ Thomas Group Printing was awesome. He helped my company hit a tough deadline and was willing to work with us to get us over the line. I arranged to pick up directly from the office in NYC and it was smooth and seamless - the TGP team was ready waiting for me and the product was beautiful. 10/10 will be using them again.
Chloe Ivanson
19:32 29 Sep 21
Rory was super helpful getting a last minute order of foil printed envelopes together for a high profile event I was working on. The envelopes were beautiful and they even ended up in Vogue! Highly recommend!
Omer Kaplan
18:57 26 Aug 21
Thomas Group were amazing. Their service was professional, patient and very fast. They were very responsive and helped me finding solutions too everything I needed in a very short time. Thank you!
Peter Lengel
21:47 06 Aug 21
Our design studio has worked with the Thomas Group twice for printing projects and have received high quality work both times. Highly recommend for a professional and responsive team!
Glen and Rory helped me so much with printing these last minute invitations. They were both incredibly knowledgeable and professional. I think that I've found the place to print all of my work from now on!
beatriz Hollensteiner
20:58 28 Jul 21
The Thomas Group Printing is amazing! I've printed several jobs with them and they're extremely professional and the quality of their service/materials is just A+. Highly recommended.
Carolina Faganello Galeazzi
14:09 28 Jul 21
The team was extremely supportive and delivered everything in the best way.
Lauren Gassel
01:25 28 Jul 21
The Thomas Group was extremely helpful and great for what we needed! Our company reached out two days before a deadline & they had such a quick turn around time. Their prices were very reasonable for the rush order & the quality did not disappoint!
Daniel McDonald
18:56 15 Jun 21
Great quality and customer service, saved the day!
Jenny Ruan
14:51 10 Jun 21
This is a great printing store and service. Very fast online response and printing service. I want to thanks all the hard work that Rory provided. I need my book in a week, but they print it out and send it to my apartment in two days. Comparing to the other stores I asked for a quote, it has a very great price. Love it!
Claire Cannon
20:40 09 Jun 21
Super impressed with both the quality of the work and the customer service I received from TGP! Had a rush order I needed done ASAP, and TGP (specifically Rory) was there every step of the way to ensure I got my order on time and to my exact specifications. He was incredibly responsive by email and phone, and anytime I had a question he got back to me immediately. The books themselves that I needed printed and bound were beautiful. For any future projects I will be using TGP, and I would highly recommend anyone else do the same!
Ali Estefam
13:22 09 Jun 21
Brandon Pogrob
23:13 08 Jun 21
Rory and co. were great to work with! Rory was very responsive and professional, and made sure to stay in touch and on top of deliverables, including being flexible when deliverables were adjusted midway through the project. Would highly recommend Thomas Group Printing.
Dorothy Lin
18:56 07 Jun 21
Glen and Rory saved the day with a recent print job (15k booklets for an exhibition opening). Not only did they stay ahead of schedule while we were already running behind, but when a last minute change meant we had to reprint everything right before the opening, they miraculously pulled it off. They're responsive, accommodating, calm, and kind!
Thomas Group was extremely easy to work with! They were able to turn around our mock ups quickly and we were able to print on a quick timeline. Would definitely work with them again!
Maristella Gonzalez
17:03 03 Jun 21
Incredibly helpful, professional, fast service, great value and quality. Very knowledgable and experienced printers. Looking forward to working together again!
Jackie Shihadeh
17:01 29 May 21
Rory and the team at Thomas Group Printing were very helpful in fulfilling our printing needs! We came to Thomas Group Printing last minute for 500 posters and they turned them around very quickly. The quality was great - will definitely use them again!
Rami Metal
16:53 25 May 21
They gave me the best quote from 4 different printing companies and Rory there was great to work with. He was thorough and gave me exactly what I was looking for. The printing job came out great and I couldn't be happier!
Samantha Horrocks
22:18 14 May 21
Working with Thomas Group was an absolute pleasure. I had a project containing five different pieces that need to be printed and shipped within a week to our offices in Seattle. Their team ensured that each piece was consistent in terms of color, paper weight, texture, etc. The product turned out even better than I expected, a truly premium print quality. Communication from start to finish was easy - they checked in with me at every stage of the process, requested my input when needed, and provided tracking information so I knew when our office would expect to receive the materials. I would highly recommend them as a fantastic printer in NYC and other cities in the US.
Jennifer Thomas
06:52 14 May 21
I needed a rush perfect binding print job for a marketing proposal. Rory was quite helpful in answering questions and TGP delivered a beautifully finished full bleed magazine at a decent price and excellent turnaround. I recommend them highly and will definitely use them again.
john smallwood
19:48 12 May 21
Glen, Rory and the Thomas team took on a rush project with a very tight deadline. Not only did they deliver a great product on time but, almost as important, they communicated clearly and effectively, so I could keep an anxious client calm throughout.
Camille Savvy (NY)
18:30 10 May 21
Glen and Rory are devoted to your project and make sure it will be printed the way you want it. Great communication, good advice, and perfect quality even with a short timing. A printer you can trust!
Jared Ferraro
12:38 10 May 21
Great group to work with. Very professional and always get the job done and done well.
Mildred Luciani
16:20 04 May 21
The entire Thomas Group team is exceptional. Always there for you no matter what timelines you throw at them. Willing to work with you and dependable. Love working with the entire team.
George Scott
20:43 03 May 21
Excellent printing services—quality work, good customer service, and value for money. Highly recommended,
Jennifer Wood
16:19 03 May 21
You will enjoy working with the team at Thomas Group! They provided guidance and advice to ensure that my annual report was exactly how I envisioned it, even with the added constraints of COVID-19. Rory kept me informed throughout the process and kept the project on track with the anticipated timeline. Fast shipping out of state, too! Highly recommend.
Zachary Maller
13:17 03 May 21
Very prompt and efficient
Divya Viswanathan
16:47 29 Apr 21
Amazing quality and so easy to work with! Very quick to respond. Will definitely work with them in the future.
Amanda Charney
21:54 28 Apr 21
I would not only recommend them to anyone that needed a great printing company, but I would use them over and over and over again!!!GREAT QUALITY. GREAT VALUE. BEYOND PROFESSIONAL. EXTREMELY RESPONSIVE.
Biubiu Yao
16:28 28 Apr 21
Communication is easy and smooth. They respond quickly and get it done quickly. I'm also very happy with the quality of the work, the brochures I had them made came all neatly folded and look high end.
Louisa O'Reilly-Hyland
21:02 23 Apr 21
Very quick and professional printing service that accommodates to small orders. Rory is very helpful! I would reccomend !
hadass attia
20:44 22 Apr 21
I am extremely happy that I found TGP. They offer reliable, prompt and quality service at a reasonable price. They apply their expertise to my vision in exploring different options to achieve great results.
Fitz Gitler
19:47 22 Apr 21
Multi-faceted printed with generations of experience. Looking forward to working with them again.
Mel Escudero
14:40 21 Apr 21
Rory did a great job in ensuring our flyers looked and felt great! They were printed within 24 hours and I was able to pick them up the following day.
Kelly Van Zandt
11:37 20 Apr 21
Working with Thomas Printing Group was a seamless process with excellent results. Fast, responsive, and professional.
Vekesh Monalall
16:01 14 Apr 21
Completed several projects with the Thomas Group and they exceeded every bit of my expectations for speed, quality, delivery, and all other phases. Definitely one of the best.
Tomas Reimer
21:15 16 Mar 21
Excellent quality printing, very fast and easy communication! We love the books we got.
Amy Branzuela
14:41 05 Mar 21
As a restaurant group, we are always fast tracking ideas and Rory and Team have responded with us giving us the opportunity to succeed during this unprecedented time. From clear communications to consistently delivering quality final product, we trust their services.
Theresa Rivera
19:34 02 Mar 21
HUGE thanks to Thomas Group Printing for delivering gorgeous, custom booklets with a super tight turnaround (and for a great price). Rory and the team were quick to reply to emails/calls and communicated clearly. Our client was so happy with the result and we can't wait to work with TGP again soon!
Marie Scoutas
20:14 01 Mar 21
Having worked with several printers in New York over the past few years, we were thrilled to find this gem. Had an excellent experience printing a 100 page magazine for a client who was thrilled with the quality of the finished product. Thanks to Rory, Glen and James for their design support, responsiveness and attention to detail. We will be back.
Why Print with Thomas Group?
We've been serving NYC's largest and most innovative companies with quality commercial printing services for four generations, so we have the experience and ability to make even the wildest projects a reality. We offer a few additional benefits for your convenience: 
Same Day Rush Printing
Need it fast? No problem. We move at the speed of the city. When submitting your project, ask us about our same day/next day printing options and we'll help you out with rush printing to bring your job from concept to reality quickly.
Courier Delivery
Need your print job sent straight to your office? We provide our clients with courier delivery anywhere within New York's five boroughs. If you're located outside of the city, we ship nationwide.
Pre-Press Services
With four generations of experience, there's little our seasoned pre-press team hasn't seen. We offer pre-press services to make sure your design files are in good working order before sending the job to press.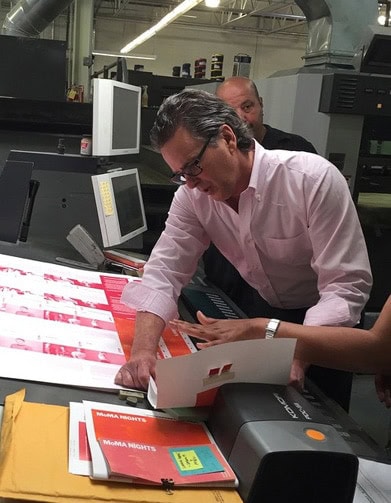 About Us
Thomas Group Printing NYC is a full service, commercial printing company with extensive experience in all phases of the printing process.We provide our clients with a broad range of sheetfed, web and digital print capabilities. Our state-of-the-art technology enables us to assist you with a wide range of products and services.
Since 1912, we've served some of New York's largest and most innovative companies with quality commercial printing services. We're proudly a fourth-generation family owned and operated company, so we know what it takes to earn and keep your business. 
Make an Impact with Print
In today's cluttered marketing environment you can still make a tangible, memorable impression on your customers with print. Convey your message in a durable, detail-rich format that they'll be able to hold, touch and share. Here are a few samples of projects our clients have created with us to do just that: