Fast, Quality Lookbook Printing in NYC
Thanks to our Manhattan location, Thomas Group has plenty of experience printing fashion lookbooks for companies across the various niches of the fashion industry. Our offerings are designed to suit your needs from large runs to small runs, and we always deliver your project on time.
Quality is the most important thing when printing lookbooks. You've already made sure your design and photography is top-notch, so when it comes down to the printing, equal attention should be paid to its quality. Our attention to detail and top-of-the-line printing equipment mean that your lookbook will come out just the way you've envisioned it.
Some examples of what we can print include clothing, jewelry, lingerie, glasses, watches, handbags, outerwear, footwear, headwear and home design lookbooks.
Premium Lookbook Printing Options
We understand that each company's lookbook needs may be different. Some fashion companies print large quantities of lookbooks for huge events or for wide distribution. Others have small collections, or want to avoid waste, for which short-run printing can be better. Thomas Group can print as many or as few pieces as each project requires. No matter what the size of the order, the same premium quality will elevate each book.
Our digital printing capabilities mean that you have endless choices in color, style and design. Whether you need a seasonal lookbook, or perhaps one for a new line or show, our professional print team is experienced in all kinds of book and booklet printing.
Paper options include high gloss, semi gloss (know as silk), or uncoated. We also have bookbinding choices available including perfect-bound and wire binding. Perfect-bound means the pages are glued to a spine, then bound in a cover, like a paperback book. While perfect binding is the most popular choice for lookbooks, we will create your books with any style of binding you want.
Our finishing services include additions like embossing, engraving and die-cutting to give the covers of your lookbooks something extra. We also can provide related printed materials for the fashion industry, like event programs, flyers, brochures, and posters. Talk with our production staff about how we can help make your season a success with marketing materials.
On Your Deadlines
Thomas Group works at the fast pace of the fashion business, and we do everything we can to get your lookbooks to you on whatever timeline you need them. From our Manhattan location, we offer courier delivery to your studio, business or event venue anywhere in NYC's five boroughs. Outside the city, we ship quickly to locations nationwide.
We've been printing for the fashion and other major New York industries since 1912, and our shop is in the fourth generation of family ownership. We take pride in each project we do, and our highest priority is quality and service. Get in touch for a quote or to find out more about how we can help you create the perfect lookbook.
Why Print with Thomas Group?
We've been serving NYC's largest and most innovative companies with quality commercial printing services for four generations, so we have the experience and ability to make even the wildest projects a reality. We offer a few additional benefits for your convenience: 
Same Day Rush Printing
Need it fast? No problem. We move at the speed of the city. When submitting your project, ask us about our same day/next day printing options and we'll help you out with rush printing to bring your job from concept to reality quickly. 
Courier Delivery
Need your print job sent straight to your office? We provide our clients with courier delivery anywhere within New York's five boroughs. If you're located outside of the city, we ship nationwide. 
Pre-Press Services
With four generations of experience, there's little our seasoned pre-press team hasn't seen. We offer pre-press services to make sure your design files are in good working order before sending the job to press.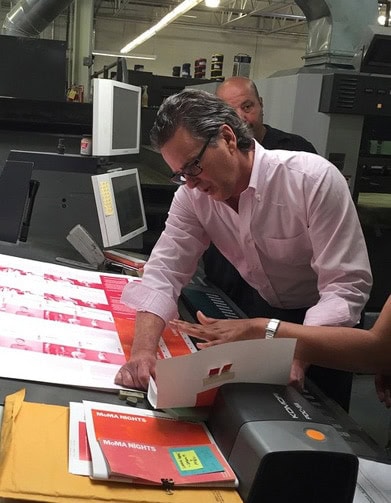 About Us
Thomas Group Printing NYC is a full service, commercial printing company with extensive experience in all phases of the printing process.We provide our clients with a broad range of sheetfed, web and digital print capabilities. Our state-of-the-art technology enables us to assist you with a wide range of products and services.
Since 1912, we've served some of New York's largest and most innovative companies with quality commercial printing services. We're proudly a fourth-generation family owned and operated company, so we know what it takes to earn and keep your business. 
Make an Impact with Print
In today's cluttered marketing environment you can still make a tangible, memorable impression on your customers with print. Convey your message in a durable, detail-rich format that they'll be able to hold, touch and share. Here are a few samples of projects our clients have created with us to do just that: