Make an Impact with Professional Flyers Printed Right Here in NYC
Professionally printed flyers can make a difference for your business or organization by attracting potential customers or people interested in what you're doing, and they offer a way to do so inexpensively and memorably. Whether you need flyers printed up for a trade show, concert, special event, a promotional offer in your office or shop, for mailing to customers, or even just to hand out on the street, Thomas Group can help you get them printed. There's no minimum order size; we will print as few or as many flyers as you need.
Flyer Printing Choices
Most flyers we print are done with our fast, cost-effective digital printing processes. Digital printing allows a lot of flexibility, starting with the choice of black-and-white printing or full color. Our wide range of paper options allows customers to find the material that's just right for their particular flyer project. Possibilities include uncoated, semi-gloss (silk) and glossy finishes, and a range of paper weights from light to heavy.
We also can customize your flyers for different purposes. If they're being handed out at an outdoors event or in public, a bold, colorful design becomes even more important to catch the eye. If you need to mail them to customers or sales prospects, we can create folded flyers for mailing. Our direct mail printing services also can provide you with lots more options related to mailing.
And if you need flyers or inserts that meet magazine, newspaper or other publications' specifications for promotional materials, just give us those specs and we'll be sure to deliver a final product that meets them. Our team is available around the clock via email if you have any questions or concerns about your flyers.
Speed, Service and Quality
Thomas Group focuses on high quality first, along with excellent customer service. But we also work fast, with quick turnaround times for flyer printing jobs of any size, from small to large. If you need rush printing, we offer next-day, overnight and even same-day flyer printing to help you get your projects done on time, meet deadlines, and solve last-minute printing problems.
We've been printing at our Manhattan location since 1912, and we're in the fourth generation of family ownership. That means you can count on personal service and attention to detail, and that we're committed to helping our customers fill any printing needs. We understand the fast pace of business in NYC, so we deliver any order throughout the city's five boroughs with courier delivery, and offer fast shipping nationwide if you're not in the city. Thomas Group emphasizes good pricing across the board, no matter what the specifics of your flyer project, so you can be sure you're making a good business move by using our printing services.
If you'd like a fast, expert quote on your flyer printing project, contact us at (212) 947-6400, chat us, or fill out the form below. You can get in touch with us online anytime too.
Why Print with Thomas Group?
We've been serving NYC's largest and most innovative companies with quality commercial printing services for four generations, so we have the experience and ability to make even the wildest projects a reality. We offer a few additional benefits for your convenience: 
Same Day Rush Printing
Need it fast? No problem. We move at the speed of the city. When submitting your project, ask us about our same day/next day printing options and we'll help you out with rush printing to bring your job from concept to reality quickly. 
Courier Delivery
Need your print job sent straight to your office? We provide our clients with courier delivery anywhere within New York's five boroughs. If you're located outside of the city, we ship nationwide. 
Pre-Press Services
With four generations of experience, there's little our seasoned pre-press team hasn't seen. We offer pre-press services to make sure your design files are in good working order before sending the job to press.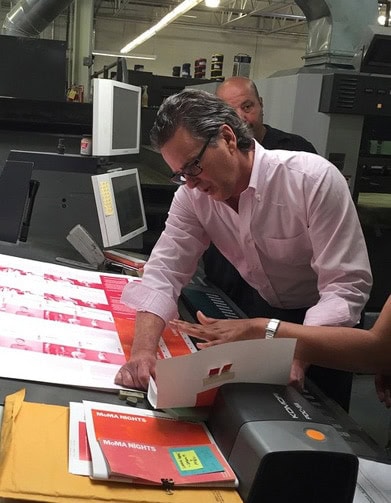 About Us
Thomas Group Printing NYC is a full service, commercial printing company with extensive experience in all phases of the printing process.We provide our clients with a broad range of sheetfed, web and digital print capabilities. Our state-of-the-art technology enables us to assist you with a wide range of products and services.
Since 1912, we've served some of New York's largest and most innovative companies with quality commercial printing services. We're proudly a fourth-generation family owned and operated company, so we know what it takes to earn and keep your business. 
Make an Impact with Print
In today's cluttered marketing environment you can still make a tangible, memorable impression on your customers with print. Convey your message in a durable, detail-rich format that they'll be able to hold, touch and share. Here are a few samples of projects our clients have created with us to do just that: