Professional Embossing in New York City
Embossing is an elegant way to take your printing projects to the next level and help them stand out from other, lower-end products. We offer custom embossing services, along with other finishing touches that can set your product apart. Embossing is often done on personalized pieces like business cards, envelopes, letterheads and invitations, and presentation folders.
What Embossing Does
Embossing creates raised designs, or lettering, on various kinds of paper stocks, for a stylish, tasteful design element. It adds texture and depth to a product, and looks and feels even better on heavier papers, where the contrast is greater. It's especially good for printed products that will be touched and handled personally by your customers or guests — there's just something appealing, not to mention classy, about an embossed logo or initials on paper that you can run your fingers over.
It's done by using etched dies and counter dies, custom made for each order, along with a heating process, to press on both sides of a sheet of paper. This pushes the embossed design or lettering above the paper's surface, like a reverse stamping effect. We can "blind emboss," meaning that no ink, color or foil is used and the emboss is simply raised paper, or we can add ink of various colors to highlight the embossed image or lettering. 
Some clients also like the look of combining foil stamping with embossing, also called combination stamping. Doing this can create a 3D raised image, such as a company logo or name, that also shines for a bold, eye-catching look on press kits, rack cards, trade show materials, and pitch or presentation projects. 
Debossing
Debossing is the opposite effect to embossing, and gives a more subtle look, with a recessed image instead of a raised one. The process to create a debossed logo or lettering uses similar etched dies and counter dies to the embossing process, but they are pressed into the front of the paper stock to create an indentation instead.
Both embossing and debossing can be done with single-level dies, which give a flat, subtle look, or multi-level dies, which create a more robust 3D effect.
More Finishing Options
Thomas Group Printing also is capable of many other specialty finishing processes, whether you're printing on a traditional offset press or taking advantage of our digital printing services. We can add engraving, die-cutting, ink and foil stamping, UV and other coatings, binding, packaging and fulfillment to get your project out the door on time.
We pride ourselves on being a full-service commercial printer to NYC, and can provide our clients with a wide range of printing choices. If you don't see details on a type of finishing or specialty printing you're interested in, talk to our experienced press team to find out what we can do and how we can deliver your printed product just the way you want it.
Why Print with Thomas Group?
We've been serving NYC's largest and most innovative companies with quality commercial printing services for four generations, so we have the experience and ability to make even the wildest projects a reality. We offer a few additional benefits for your convenience: 
Same Day Rush Printing
Need it fast? No problem. We move at the speed of the city. When submitting your project, ask us about our same day/next day printing options and we'll help you out with rush printing to bring your job from concept to reality quickly.
Courier Delivery
Need your print job sent straight to your office? We provide our clients with courier delivery anywhere within New York's five boroughs. If you're located outside of the city, we ship nationwide.
Pre-Press Services
With four generations of experience, there's little our seasoned pre-press team hasn't seen. We offer pre-press services to make sure your design files are in good working order before sending the job to press.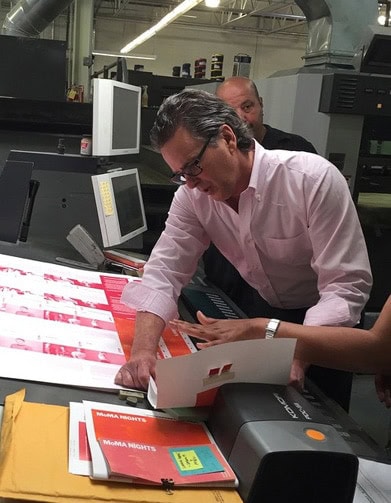 About Us
Thomas Group Printing NYC is a full service, commercial printing company with extensive experience in all phases of the printing process.We provide our clients with a broad range of sheetfed, web and digital print capabilities. Our state-of-the-art technology enables us to assist you with a wide range of products and services.
Since 1912, we've served some of New York's largest and most innovative companies with quality commercial printing services. We're proudly a fourth-generation family owned and operated company, so we know what it takes to earn and keep your business. 
Make an Impact with Print
In today's cluttered marketing environment you can still make a tangible, memorable impression on your customers with print. Convey your message in a durable, detail-rich format that they'll be able to hold, touch and share. Here are a few samples of projects our clients have created with us to do just that: