Backdrop Printing in NYC, Fast and Local
Our graphic backdrop printing services might look like a million bucks next to a red carpet, but as with everything Thomas Group does, we make sure to keep them affordable as well as attractive.
Backdrops, also called step-and-repeat banners or backdrops, are one of the specialty printing jobs our state-of-the-art digital large format printing capabilities allow us to offer. They're perfect for exclusive events, promotional outings, concerts, galas, red carpets, grand openings, film screenings, festivals, conferences, and anywhere else a well-placed backdrop might be needed for a photo opportunity.
Photos from such events are shared online more widely than ever before, and there's no better way to get your company, festival or business name in front of millions than to serve as the background logo for all those shots. It's also a great place to position beautiful art, eye-catching graphic design, or any other image people will want to take a photo in front of. Backdrops also are frequently found at trade shows, conventions and retail events, branding events, and press conferences.
Backdrop Printing Options
We can provide rush printing for backdrops in a wide range of choices for material and design. Our large format presses deliver both speed and pristine quality on either vinyl or polyester fabric backdrops. Vinyl is a more casual option with good durability for outdoors events, while fabric provides a no-glare surface that gives a more upscale appearance.
Freestanding backdrop sizes can range from 6x8 feet up to 8x16 feet, with the most common backdrop sizes in the middle of that range. Step-and-repeat backdrops can be even bigger, and are created by repeating the same print on several adjoining pieces.
Backdrop Stands
We can customize your backdrop to your needs for hanging or mounting; pockets can be placed at top and bottom, or grommets can be set at corners or around the whole backdrop. If you're also in need of backdrop stand equipment, we have options available for you. Adjustable height and width stands for step-and-repeats are a good choice, or pop-up backdrop stands are easy to use with fabric backdrops. When you order, talk with us about the hardware available and what best suits your needs, so we can be sure you get the best result.
Our Approach
We focus on serving our NYC customers with fast, beautiful and professional results every time. As a full-service commercial printing company in our fourth generation of operation in Manhattan, Thomas Group looks for ways to make your printing experience easy, affordable and one-stop.
We keep up with the latest in printing technology to create the highest quality we can for our customers, and we're always happy to talk with you about quotes, options and what we can do to help your event succeed.
If you need a backdrop but are in a real hurry, remember that our backdrop printing is available as a rush service, and we deliver by courier anywhere in New York City's five boroughs, so you'll get your printed order as fast as possible. If you're outside the city, we ship fast and nationwide.
Why Print with Thomas Group?
We've been serving NYC's largest and most innovative companies with quality commercial printing services for four generations, so we have the experience and ability to make even the wildest projects a reality. We offer a few additional benefits for your convenience: 
Same Day Rush Printing
Need it fast? No problem. We move at the speed of the city. When submitting your project, ask us about our same day/next day printing options and we'll help you out with rush printing to bring your job from concept to reality quickly. 
Courier Delivery
Need your print job sent straight to your office? We provide our clients with courier delivery anywhere within New York's five boroughs. If you're located outside of the city, we ship nationwide. 
Pre-Press Services
With four generations of experience, there's little our seasoned pre-press team hasn't seen. We offer pre-press services to make sure your design files are in good working order before sending the job to press.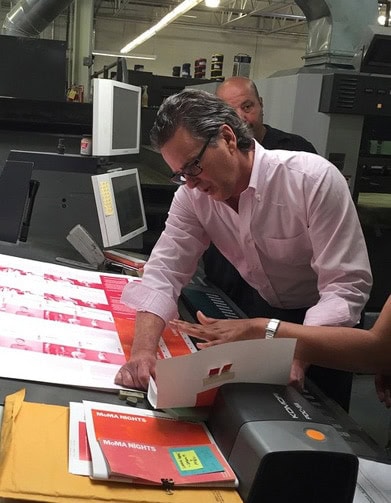 About Us
Thomas Group Printing NYC is a full service, commercial printing company with extensive experience in all phases of the printing process.We provide our clients with a broad range of sheetfed, web and digital print capabilities. Our state-of-the-art technology enables us to assist you with a wide range of products and services.
Since 1912, we've served some of New York's largest and most innovative companies with quality commercial printing services. We're proudly a fourth-generation family owned and operated company, so we know what it takes to earn and keep your business. 
Make an Impact with Print
In today's cluttered marketing environment you can still make a tangible, memorable impression on your customers with print. Convey your message in a durable, detail-rich format that they'll be able to hold, touch and share. Here are a few samples of projects our clients have created with us to do just that: