Have Your Corporate Calendar Professional Printed 
Custom calendar printing is a great marketing tool for businesses, nonprofits and entrepreneurs, enabling you to keep your business or advertising message in front of potential customers all year long. Many businesses print calendars with beautiful landscapes, wildlife or other animals, or photos and graphics related to their industry. We can help you print a cost-effective promotional item to give away to customers as part of a marketing campaign, or a top-quality, full size photo calendar for fans of your art or photography work to purchase.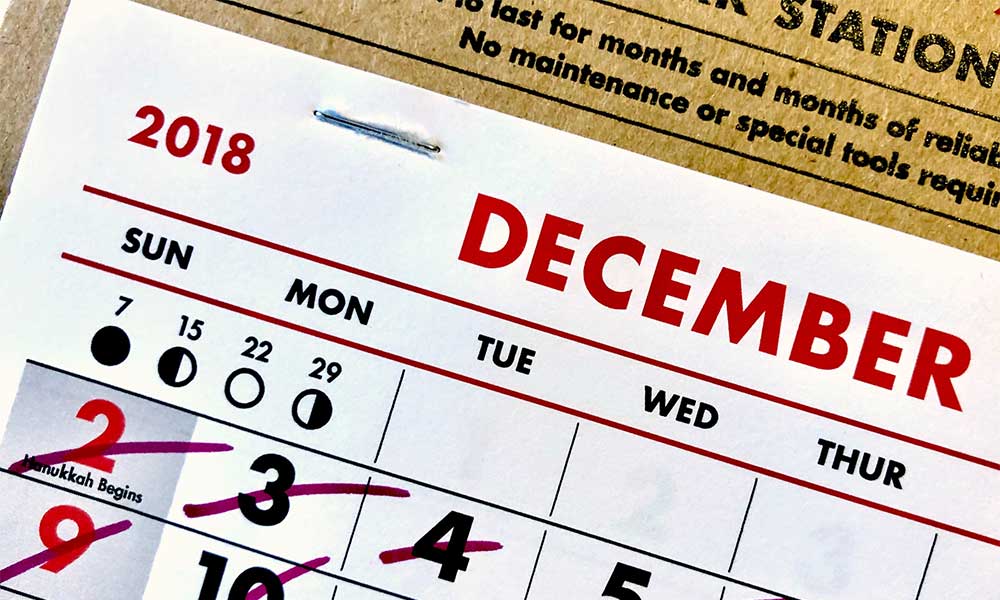 Types of Calendar Printing
Our digital printing, binding and finishing capabilities allow us to deliver wall calendars, desk calendars, photo calendars, calendar posters, academic or holiday calendars, and even personalized calendars. You can work with existing templates or talk with our print team about customizing your calendar design.
Sizes can vary, from the basic 12-month calendar to 16 or 18 months. Larger calendars are also available if you would like to add more information beyond the traditional calendar pages. Daily desktop calendars and posters are other options.
Calendar Printing Options
Like any other printed product, the quality and style of calendars varies depending on the materials used, the choice of binding, and whether you need full digital color or black-and-white printing. You can choose from many of our paper stocks, glossy or matte, light or heavy, and any combination of colors desired.
Binding options include saddle stitching, Wire-O, or coil binding for wall-type calendars, and wire binding or perfect binding for flip or desk calendars. The best binding method for your particular calendar will depend on the size, thickness and weight of the product.
Wire or Wire-O binding consists of a series of holes along the spine of the calendar, allowing the pages to be double-bound together with loops of coated wire. This provides a professional finish and a sturdy finished calendar. Coil binding is similar, but lighter, and allows pages to move 360 degrees around the binding. Both are available in various colors to match the contents of your calendar.
Saddle stitching is an inexpensive and popular way to produce a calendar and is done with center staples through the middle of the flat calendar pages. Perfect binding is best for very thick calendars, such as daily desktop flip calendars, as it uses adhesive to bind together large numbers of pages.
With all calendars, our finishing department can put the final touches on your printing project by adding covers, punching holes for hanging, rounding corners, embossing a seal on the front, or perhaps adding a perforated tear-off coupon in the back.
The Thomas Group Approach
We want to make it as easy as possible for our customers to order and get the high-quality printed products they need. We've been in business in New York City since 1912, and we are proud to maintain a reputation for service and quality.
Thomas Group offers all its NYC customers courier delivery anywhere in the five boroughs, so you can have your calendar order as fast as possible. If you have hard deadlines to meet, we'll help you meet them with fast turnaround times from our convenient Manhattan location. Customers outside the city can take advantage of our fast shipping options.
Why Print with Thomas Group?
We've been serving NYC's largest and most innovative companies with quality commercial printing services for four generations, so we have the experience and ability to make even the wildest projects a reality. We offer a few additional benefits for your convenience: 
Same Day Rush Printing
Need it fast? No problem. We move at the speed of the city. When submitting your project, ask us about our same day/next day printing options and we'll help you out with rush printing to bring your job from concept to reality quickly. 
Courier Delivery
Need your print job sent straight to your office? We provide our clients with courier delivery anywhere within New York's five boroughs. If you're located outside of the city, we ship nationwide. 
Pre-Press Services
With four generations of experience, there's little our seasoned pre-press team hasn't seen. We offer pre-press services to make sure your design files are in good working order before sending the job to press.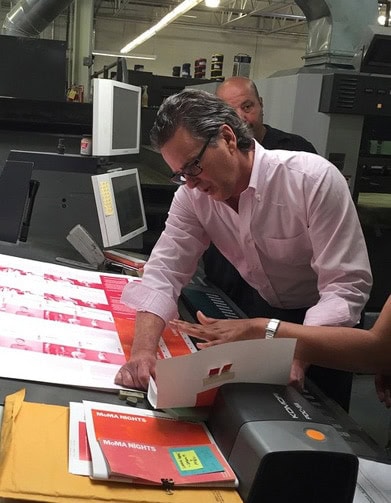 About Us
Thomas Group Printing NYC is a full service, commercial printing company with extensive experience in all phases of the printing process.We provide our clients with a broad range of sheetfed, web and digital print capabilities. Our state-of-the-art technology enables us to assist you with a wide range of products and services.
Since 1912, we've served some of New York's largest and most innovative companies with quality commercial printing services. We're proudly a fourth-generation family owned and operated company, so we know what it takes to earn and keep your business. 
Make an Impact with Print
In today's cluttered marketing environment you can still make a tangible, memorable impression on your customers with print. Convey your message in a durable, detail-rich format that they'll be able to hold, touch and share. Here are a few samples of projects our clients have created with us to do just that: