Custom Poster Printing Right Here in NYC
From art show to trade show, custom prints and posters enable Thomas Group's clients to grab attention and wow the competition. At our Manhattan, NYC print shop, we can produce large or wide format posters using cutting-edge large format printers. Unusual or oversize dimensions are no problem, and neither are custom specifications. We always focus on providing the best possible quality for each print run, and the best customer service during the process.
Poster Printing Options
Whether you need art prints for a gallery, concert posters for a gig, or marketing posters for a business event, there are different types of poster materials, inks, sizes and custom options that will make each job stand out.
Common poster materials include semigloss, photogloss and uncoated papers. Size options for poster printing can range from small letter-size designs all the way up to our maximum large-format dimensions, which are 5 feet by 10 feet. We can produce an eye-catching, colorful poster of any size for jobs like event signage, store promotions, corporate messaging, trade shows and charity benefits. Other kinds of posters might include educational or research posters, courtroom signage, or for exhibitions.
Our array of digital presses and printers gives you color options, too, from black-and-white through full color, including striking one-color or two-color designs.
Post-Press Options
Some posters need additional services we offer, like mounting or laminating. For outdoor use or when you need something sturdy and reusable, we can mount posters on foamboard, which is good for small and medium posters, or Gator board, a tough substrate material that can support larger posters. These can be mounted on walls, or displayed on easels.
Lamination might be a good choice if your poster is meant to be displayed for a long period of time, or if it's going to be moved to different places. It consists of a protective laminate coating over the poster, with the choice of glossy, satin or matte finishes.
Questions About Poster Printing?
Our production team will be happy to discuss what, among the many options available, best suits your project. We've been printing in NYC since 1912, and as a fourth-generation, family-owned and operated company, we are proud to give our customers individual service they can rely on.
Whether you'd like to know more about mounting and display options, or the printing processes we use to give you the highest quality posters available in NYC, we're available to talk with you.
What's more, if you decide or discover you need some beautiful posters in a hurry, we have a faster turnaround than most printing companies thanks to our Manhattan location. For our NYC customers, we offer courier delivery anywhere in the five city boroughs to get your order into your hands as fast as possible. If you're outside the city, we also have fast shipping options.
Why Print with Thomas Group?
We've been serving NYC's largest and most innovative companies with quality commercial printing services for four generations, so we have the experience and ability to make even the wildest projects a reality. We offer a few additional benefits for your convenience: 
Same Day Rush Printing
Need it fast? No problem. We move at the speed of the city. When submitting your project, ask us about our same day/next day printing options and we'll help you out with rush printing to bring your job from concept to reality quickly. 
Courier Delivery
Need your print job sent straight to your office? We provide our clients with courier delivery anywhere within New York's five boroughs. If you're located outside of the city, we ship nationwide. 
Pre-Press Services
With four generations of experience, there's little our seasoned pre-press team hasn't seen. We offer pre-press services to make sure your design files are in good working order before sending the job to press.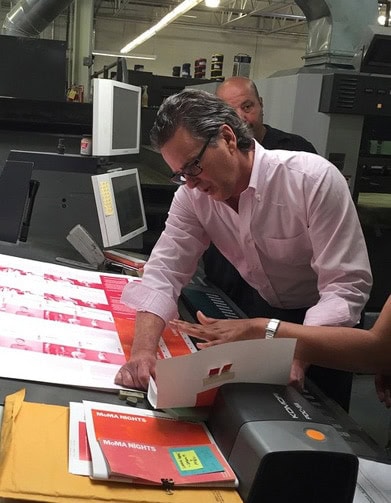 About Us
Thomas Group Printing NYC is a full service, commercial printing company with extensive experience in all phases of the printing process.We provide our clients with a broad range of sheetfed, web and digital print capabilities. Our state-of-the-art technology enables us to assist you with a wide range of products and services.
Since 1912, we've served some of New York's largest and most innovative companies with quality commercial printing services. We're proudly a fourth-generation family owned and operated company, so we know what it takes to earn and keep your business. 
Make an Impact with Print
In today's cluttered marketing environment you can still make a tangible, memorable impression on your customers with print. Convey your message in a durable, detail-rich format that they'll be able to hold, touch and share. Here are a few samples of projects our clients have created with us to do just that: