Professional Envelope Printing in New York City
With several methods available to create the perfect envelope for any project, our envelope printing services can make a difference in your business or marketing communications.
Professionally-printed envelopes provide that next-level, extra effort that makes an impression on customers, potential clients, or donors. Envelope printing options extend far beyond a simple business envelope with a logo on it, too. From specialty folds to die-cutting and embossing, we can customize the envelope to your exact needs.
Types of Envelope Printing
Thomas Group Printing uses two types of professional printing to deliver custom envelopes to our clients. Digital printing is a flexible choice, allowing any number of envelopes to be printed, even the smallest of jobs. It's also suited well to projects that need very fast turnaround times or individual item customization. Offset envelope printing is also available, and offers cost efficiency on larger projects.
Envelope Printing Options
A wide range of sizes, colors, and papers are available on envelopes. You can include graphics or logos, advertising text or seasonal reminders, artwork and other information in the envelope design, and can have them printed on one or both sides. Additionally, envelopes can be converted. This process allows for printing on the inside of the envelope.
Examples of the most popular types of available envelopes include business or commercial, booklet and catalog, announcement or invitation, and specialty types like remit envelopes for bills or invoices. Depending on the type of printing you choose, CMYK or four-color printing and Pantone color printing are both available.
Make Envelopes Part of Your Project
We can coordinate your envelopes with other printed materials, like letterheads, invitations, marketing campaigns, brochures, catalogs, press kits and other business needs. Thomas Group prints many kinds of projects to which envelopes make a helpful addition. Businesses, nonprofits and organizations which create any volume of mailings regularly can find easier solutions to their printing demands by combining, for instance, envelopes with brochure or report printing.
Our post-press team also has the tools to create a whole ready-to-go mailing for you, using a range of professional equipment to design, print and finish event, marketing and mailing campaigns from start to end.
Our Approach
We've been in New York City since 1912, and we're in the fourth generation of family ownership. Those qualities inform how we treat our customers, because over the years we've learned that each customer is as important as the next. We put a high priority on attention to detail, producing the best quality printed products we can, and serving our customers loyally. Plus, our Manhattan location allows us to offer our NYC customers faster turnarounds on envelope printing and other jobs, with courier delivery anywhere in the five boroughs.
Why Print with Thomas Group?
We've been serving NYC's largest and most innovative companies with quality commercial printing services for four generations, so we have the experience and ability to make even the wildest projects a reality. We offer a few additional benefits for your convenience: 
Same Day Rush Printing
Need it fast? No problem. We move at the speed of the city. When submitting your project, ask us about our same day/next day printing options and we'll help you out with rush printing to bring your job from concept to reality quickly. 
Courier Delivery
Need your print job sent straight to your office? We provide our clients with courier delivery anywhere within New York's five boroughs. If you're located outside of the city, we ship nationwide. 
Pre-Press Services
With four generations of experience, there's little our seasoned pre-press team hasn't seen. We offer pre-press services to make sure your design files are in good working order before sending the job to press.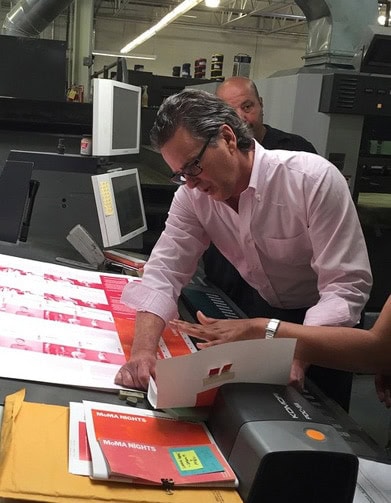 About Us
Thomas Group Printing NYC is a full service, commercial printing company with extensive experience in all phases of the printing process.We provide our clients with a broad range of sheetfed, web and digital print capabilities. Our state-of-the-art technology enables us to assist you with a wide range of products and services.
Since 1912, we've served some of New York's largest and most innovative companies with quality commercial printing services. We're proudly a fourth-generation family owned and operated company, so we know what it takes to earn and keep your business. 
Make an Impact with Print
In today's cluttered marketing environment you can still make a tangible, memorable impression on your customers with print. Convey your message in a durable, detail-rich format that they'll be able to hold, touch and share. Here are a few samples of projects our clients have created with us to do just that: