Letterpress is one of the oldest printing methods still in use, and is chosen these days mainly for its aesthetic appeal and the sense of luxury it creates. You've probably heard of it as the "movable type" printing invented by Johannes Gutenberg, in which a raised surface of type is inked and pressed into paper. This results in a clean, crisp printed product with the added attraction of a textured, engraving-like surface.
Once at the forefront of efficient printing technology, letterpress has now evolved into a specialized, high-design form of printing, thanks to later inventions like polymerized printing plates and computer-aided typography.
Letterpress Printed Products
Bespoke print work, like high-end wedding invitations, brought letterpress back into popularity within the last decade or two. It's now seen on all kinds of custom printed products, such as business cards, greeting and holiday cards,and event invitations. The distinct raised designs that can be created with letterpress are now a sophisticated art form within the printing world.
While Thomas Group also offers a wide array of customizable digital printing techniques when a modern look is needed, letterpress provides an inviting mix of old-fashioned style and current design ideas. It's often done on heavy paper stock to highlight the depressions left by letterpressing even more, and the patterns and designs created can be inked in various colors, or left uninked for a subtle relief effect.
Letterpress Options
We can produce a whole suite of letterpressed items, such as gala invitations with accompanying cards and envelopes, or create eye-catching customer-facing materials in letterpress. We also have die-cutting, leafing and stamping abilities, along with embossing and engraving, to help our customers create the perfect printed project they envision.
For our corporate clients, letterpress offers a standout way to convey luxury and branding identity, whether that's through custom letterheads, business cards, report and presentation covers, company holiday cards, or gift items. Letterpress is a versatile printing form, combining type, ornamentation, logos, patterns, and art to allow as little or as much printed area as required.
As with all of our printing, Thomas Group focuses on quality and service with letterpress projects. It's not a printing method well-suited to rush jobs, as the physical nature of the printing requires both time and precision to perfect. However, we always do our best to ensure our customers have what they need in good time, and we offer courier delivery anywhere in NYC for that reason. For deliveries outside the city's five boroughs, we also provide fast, nationwide shipping.
We are a fourth-generation, family owned and operated printing company that has been serving New York City businesses since 1912 from our Manhattan location. We are proud of the work we do and the variety of commercial printing services we offer, and are happy to talk with you anytime about how we can help meet your needs for high-quality printing.
Why Print with Thomas Group?
We've been serving NYC's largest and most innovative companies with quality commercial printing services for four generations, so we have the experience and ability to make even the wildest projects a reality. We offer a few additional benefits for your convenience: 
Same Day Rush Printing
Need it fast? No problem. We move at the speed of the city. When submitting your project, ask us about our same day/next day printing options and we'll help you out with rush printing to bring your job from concept to reality quickly. 
Courier Delivery
Need your print job sent straight to your office? We provide our clients with courier delivery anywhere within New York's five boroughs. If you're located outside of the city, we ship nationwide. 
Pre-Press Services
With four generations of experience, there's little our seasoned pre-press team hasn't seen. We offer pre-press services to make sure your design files are in good working order before sending the job to press.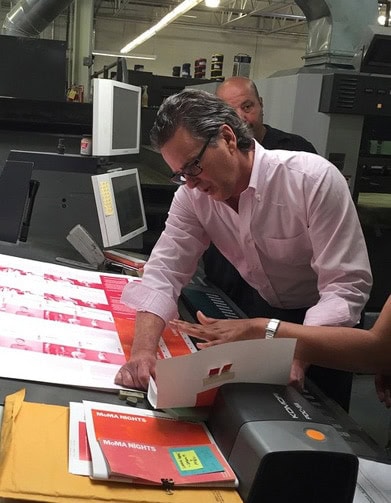 About Us
Thomas Group Printing NYC is a full service, commercial printing company with extensive experience in all phases of the printing process.We provide our clients with a broad range of sheetfed, web and digital print capabilities. Our state-of-the-art technology enables us to assist you with a wide range of products and services.
Since 1912, we've served some of New York's largest and most innovative companies with quality commercial printing services. We're proudly a fourth-generation family owned and operated company, so we know what it takes to earn and keep your business. 
Make an Impact with Print
In today's cluttered marketing environment you can still make a tangible, memorable impression on your customers with print. Convey your message in a durable, detail-rich format that they'll be able to hold, touch and share. Here are a few samples of projects our clients have created with us to do just that: