Fast, Friendly Book Printing in NYC
Book publishing has never been easier, and Thomas Group Printing combines the latest in printing technology with long tradition, putting more than a century of experience to work on each book we print. Whether it's for a business, school, charity, or as the author yourself, you can expect us to deliver high-quality printed books with affordable pricing.
What We Offer
The options for book printing vary to fit any type of book you need created: Cookbooks, art books, fashion or design lookbooks, manuals, booklets, handbooks, catalogs and self-published books.
Digital printing allows us to take the labor and frustration out of getting a book printed, with short or large runs available and no minimum order size. Reprints are also easy, since the print files are safely stored for the next time you need a specific book.
Short Run Book Printing
You don't need to be a huge company or have a vast number of books to print them with us. We frequently help small businesses and others who need short run book printing services. We can handle the printing of thousands of books if that's what you need, or do a limited run of just 50 or 100 books. We also have the capabilities to print books in full digital color, perfect for lookbooks and catalogs.
Examples of Our Book Printing Work:
Printing Your Book
We'll talk with you about the many options available to produce your book just the way you envision it. You may want to choose digital printing for a small quantity of books, or offset printing for a larger print run. Digital printing is what allows us to offer small batch or short run book printing for organizations, businesses or individuals. Setup is easy and cheap compared to traditional offset printing on a press, so your cost per book can be lower, especially with a print run of smaller volume. However, the larger the number of books you need printed, the more cost-effective offset printing will become. Talk with our experienced print team to figure out what is best for your needs.
Types of binding and finishing often depend on the type of book and its desired appearance. Perfect binding, saddle-stitched binding, coil or wire binding and others suit different kinds of projects.
Perfect-bound books have a square spine with a heavier outer cover, which works well for books up to about an inch thick, like catalogs, manuals and lookbooks. Saddle stitching produces booklet-style publications with staples in the center fold line, best for short booklets and manuals, playbills, catalogs and zines.
Wire or spiral coil bindings work well for cookbooks, handbooks, manuals and anything else that requires a lot of hands-on use. Wire suits publications up to about a half-inch thick, while spiral coils can handle up to an inch.
Our finishing team can also help determine what finishing details will work best for your book, with options like round cornering, embossing, foil stamping, or laminations. A wide range of bookbinding and finishing styles will give you the chance to make an impact no matter what your field or audience.
Our Approach
We know book printing needs don't always conform to a set schedule, and we always do our best to deliver your project as quickly as possible with an eye on exceptional quality.
Thomas Group Printing is a fourth-generation, family-owned printer, and that shapes the way we do business. With a solid foundation of family values and tradition, we've built a company that adapts to the newest print technologies and market needs. There's not a printing project out there we haven't had experience with, and we're conveniently located in Manhattan.
That makes delivery and turnaround fast for our NYC customers, to whom we offer courier delivery anywhere in the city. Outside of NYC, we offer fast shipping nationwide. Thomas Group Printing's mission is to give our customers the best quality book printing, with the best service we can. Read our reviews below to hear about the excellent level of service we strive to provide to each and every customer.
Contact Us with Your Book Printing Project Today.
Our expert print team is standing by to help with your book printing order today.
Why Work with Thomas Group Printing?
We've been serving NYC's largest and most innovative companies with quality commercial printing services for four generations, so we have the experience and ability to make even the wildest projects a reality. We offer a few additional benefits for your convenience: 
Same Day Rush Printing
Need it fast? No problem. We move at the speed of the city. When submitting your project, ask us about our same day/next day printing options and we'll help you out with rush printing to bring your job from concept to reality quickly. 
Courier Delivery
Need your print job sent straight to your office? We provide our clients with courier delivery anywhere within New York's five boroughs. If you're located outside of the city, we ship nationwide. 
Pre-Press Services
With four generations of experience, there's little our seasoned pre-press team hasn't seen. We offer pre-press services to make sure your design files are in good working order before sending the job to press.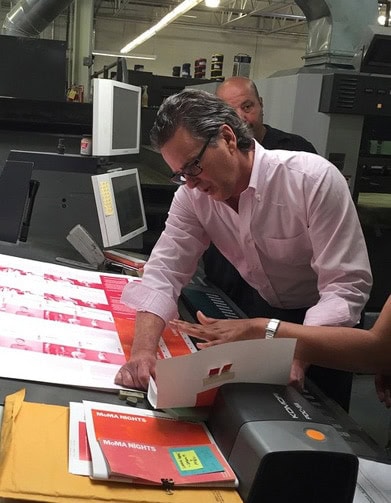 About Us
Thomas Group Printing NYC is a full service, commercial printing company with extensive experience in all phases of the printing process.We provide our clients with a broad range of sheetfed, web and digital print capabilities. Our state-of-the-art technology enables us to assist you with a wide range of products and services.
Since 1912, we've served some of New York's largest and most innovative companies with quality commercial printing services. We're proudly a fourth-generation family owned and operated company, so we know what it takes to earn and keep your business. 
Make an Impact with Print
In today's cluttered marketing environment you can still make a tangible, memorable impression on your customers with print. Convey your message in a durable, detail-rich format that they'll be able to hold, touch and share. Here are a few samples of projects our clients have created with us to do just that: