Print Any Quantity Quickly & Cost Effectively With Digital Printing
Digital printing offers our customers fast, high-quality results for all kinds of projects. In comparison to traditional offset printing, digital presses make it possible to create smaller print runs, and can produce jobs with more speed.
We use state-of-the-art digital presses including an iGen, HP Indigo and Xerox 700 to handle a wide variety of projects. Digital printing is a flexible, creative medium that allows our clients to customize brochures, magazines, business or conference materials, reports, posters, art and look books — any project that can benefit from a quick turnaround or is suited for a small print run is ideal for digital printing.
Small print runs don't have to be wildly expensive when you use digital printing, because there's no time-consuming press setup. Digital printing allows as few or as many items printed as you like. There's no quality loss compared to traditional printing, either. Because the image, text or design goes straight to the digital press, nothing is lost in transfer, and quality remains high. We can print small jobs of a few dozen copies or run thousands of them, with the same quality on each page.
In the fast-paced business world of NYC, the quick turnaround time offered by digital printing methods is also something many of our clients find valuable. It can make a big difference for customers in a rush to have that big presentation ready or to get those reports printed on a deadline.
Digital printing offers our customers:
Speed

High quality

Any size of print run

Reprints on demand
We welcome customers to get in touch with any questions about digital printing or to find out how we can help with your particular project.
Products Commonly Printed Digitally
Offset printing works especially well for large runs of materials. To learn more about products we commonly print in offset, click any of the project types below. Is the project you have in mind not listed? Just send a note to one of our print specialists and we'll be happy to guide you towards the best way to print your project. 
Annual Report Printing
An impactful annual report can showcase your company's strengths and share the story of where you've come from & where you're going. Let us help you produce a document that you'll be proud to share with stakeholders and employees.
Book Printing
For large runs of books with quantities exceeding 2,500, offset printing produces an end-product that's flawlessly printed and cheaper per piece than printing digitally. 
Catalog Printing
When you need a large quantity of catalogs, offset printing is the way to go. Printing your catalog in offset allows us to make large print runs while keeping cost per piece low.
Magazines
It's easier than ever for your business, nonprofit, school, club or organization to create its own magazine, and when you're ready for printing, we have a variety of methods to get your magazine into the hands of its readers. 
Brochures
Professionally printed brochures are a time-tested and effective way to market your business, product or organization to customers. We can produce brochures in a variety of sizes, folds, paper weights and finishes..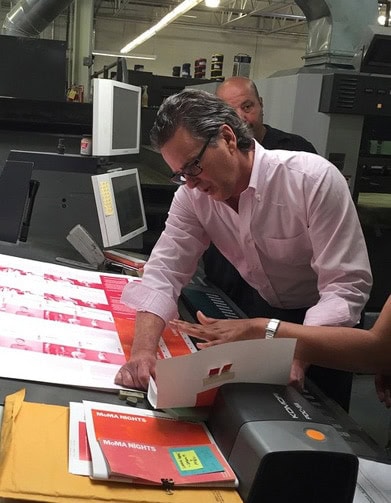 About Us
Thomas Group Printing NYC is a full service, commercial printing company with extensive experience in all phases of the printing process.We provide our clients with a broad range of sheetfed, web and digital print capabilities. Our state-of-the-art technology enables us to assist you with a wide range of products and services.
Since 1912, we've served some of New York's largest and most innovative companies with quality commercial printing services. We're proudly a fourth-generation family owned and operated company, so we know what it takes to earn and keep your business. 
Make an Impact with Print
In today's cluttered marketing environment you can still make a tangible, memorable impression on your customers with print. Convey your message in a durable, detail-rich format that they'll be able to hold, touch and share. Here are a few samples of projects our clients have created with us to do just that: