Booklets can come in a wide range of sizes and types, depending on what will best suit each project. Our booklet printing services are versatile, with many paper, binding and finishing options. Booklets are often needed on a short-run basis, as a flexible and attractive print medium. We are happy to work with you on quick turnarounds for both small and large quantities of booklets.
Thomas Group uses digital printing to produce your booklets on demand, with no minimum or maximum order size. This method allows us to give you high-quality booklets of any size with clear, vibrant colors and images on a variety of paper stocks. Offset printing may be another option if you need large quantities of booklets; talk to our experienced press staff to find out what's right for your project.
What You Can Do With Booklets
The term booklets is a general one, and covers all kinds of marketing and promotional materials as well as in-house manuals and reports, not to mention many other business and nonprofit uses. Some of those uses include:
Employee Handbooks

Event Programs

Fashion Lookbooks

Flipbooks

Manuals

Guidebooks

Guest Services

Leaflets

Photo Booklets

Marketing

Educational

Presentations

Workbooks

Directories
Booklet Printing & Binding Options
You can choose from our range of top quality in-house paper stocks for your booklets and covers. We offer several binding options for booklets, such as traditional saddle-stitching, perfect binding, spiral binding or Wire-O (wire coil) binding.
Saddle stitching is the most common method of binding printed booklets, and means that it's folded magazine style, with two staples in the center fold of the booklet. This suits most small booklets and is both easy to use and cost-effective. Perfect binding is another popular choice, in which the pages are glued to a spine and wrapped in a cover, the way a paperback book is bound. This can be done with both small and large booklets.
For booklets that require more flexibility in the binding, spiral or wire coil bindings are good choices. Anything that will need to be opened often or referred to regularly, like a cookbook or a manual, does well with these bindings. They offer more durability and page movement, with both metal and plastic options available. Choosing a wire coil binding also allows the facing pages in your booklet to lay flat precisely together, which is great for full-page spreads when those are part of your design.
Other options in booklet printing include the addition of tabs to categorize your booklet into sections, cover options like die-cutting, embossing and engraving, and matching booklets with envelopes for mailing.
Our Approach
Each booklet printing project gets our full attention. We know what it takes to succeed in the NYC print world, because we've been doing it since 1912. We're in our fourth generation of family ownership, and it's also family who you'll find operating our business. Thomas Group pays attention to quality and prides itself on great customer service, but we also know that speed matters to our customers. That's why we offer courier delivery anywhere in New York City's five boroughs, from our Manhattan location. If you're outside NYC, we also ship quickly, nationwide.
We're happy to talk with you about how we can help meet you or your company's booklet printing needs — Just get in touch with us for a quote or with any questions we can answer.
Why Print with Thomas Group?
We've been serving NYC's largest and most innovative companies with quality commercial printing services for four generations, so we have the experience and ability to make even the wildest projects a reality. We offer a few additional benefits for your convenience: 
Same Day Rush Printing
Need it fast? No problem. We move at the speed of the city. When submitting your project, ask us about our same day/next day printing options and we'll help you out with rush printing to bring your job from concept to reality quickly. 
Courier Delivery
Need your print job sent straight to your office? We provide our clients with courier delivery anywhere within New York's five boroughs. If you're located outside of the city, we ship nationwide. 
Pre-Press Services
With four generations of experience, there's little our seasoned pre-press team hasn't seen. We offer pre-press services to make sure your design files are in good working order before sending the job to press.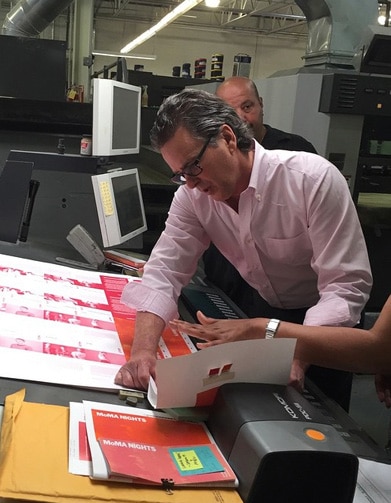 About Us
Thomas Group Printing NYC is a full service, commercial printing company with extensive experience in all phases of the printing process.We provide our clients with a broad range of sheetfed, web and digital print capabilities. Our state-of-the-art technology enables us to assist you with a wide range of products and services.
Since 1912, we've served some of New York's largest and most innovative companies with quality commercial printing services. We're proudly a fourth-generation family owned and operated company, so we know what it takes to earn and keep your business. 
Make an Impact with Print
In today's cluttered marketing environment you can still make a tangible, memorable impression on your customers with print. Convey your message in a durable, detail-rich format that they'll be able to hold, touch and share. Here are a few samples of projects our clients have created with us to do just that: