Printing on newsprint is a great way to create unique documents with a retro feel. Thomas Group Printing is a family-owned, fourth generation printer that offers newsprint printing in NYC. We've helped many companies in the New York area and beyond print large and small run newsprint projects on newsprint paper.
Common Paper Sizes and Color Options for Newsprint Printing
When printing on newsprint paper, there are several different sizes that are commonly requested. We offer newsprint printing on several different paper weights. From 1 color printing to 4+, we're available to help bring your newsprint project to life, printed to your exact design specs.
Types of Newsprint Printing We Do
There are two ways to print on newsprint paper which both result in great-looking prints. Cost differs between the two methods of printing, so our experienced print team will help you select the best option for your job.
Traditional Newsprint Printing
Traditional web printing is best for very large jobs. A traditional web press is a very large press and prints faster than a traditional sheet-fed press. It is an efficient way to produce jobs which require over 1,000 copies and might need to look or feel like a traditional newspaper. Most of the newspapers you'll see at a commercial newsstand are printed using the traditional process.
Digital Newsprint Printing 
Digital printing helps us to produce smaller jobs. To achieve smaller quantities at an affordable price, digital newsprint printing involves printing a batch of pages using a large, specialized digital printer. The print run for digital newsprint is typically printed onto a single roll of newsprint which is cut and folded into individual newspapers after printing. Digital printing is a good option for print runs below 500 copies. As the quantity of copies rises, it may become more cost effective to print on a traditional web press.
Examples of Newsprint Printing Projects We've Done
Our Print Experts Can Help with Your Newsprint Project
At Thomas Group Printing, our family has helped companies in New York with their printing needs for the past four generations. If you need newsprint printing in NYC or any of the five boroughs, we have the expertise to complete your print job with excellent quality.
We're located in Manhattan, so we can complete your print job on a quick turnaround if you require it. We also offer messenger delivery anywhere in the city and ship nationwide for your convenience.
If you need assistance with a newsprint project, fill out the form below to get a quote or contact us right away at 212-947-6400.
Why Work with Thomas Group Printing?
We've been serving NYC's largest and most innovative companies with quality commercial printing services for four generations, so we have the experience and ability to make even the wildest projects a reality. We offer a few additional benefits for your convenience: 
Same Day Rush Printing
Need it fast? No problem. We move at the speed of the city. When submitting your project, ask us about our same day/next day printing options and we'll help you out with rush printing to bring your job from concept to reality quickly. 
Courier Delivery
Need your print job sent straight to your office? We provide our clients with courier delivery anywhere within New York's five boroughs. If you're located outside of the city, we ship nationwide. 
Pre-Press Services
With four generations of experience, there's little our seasoned pre-press team hasn't seen. We offer pre-press services to make sure your design files are in good working order before sending the job to press.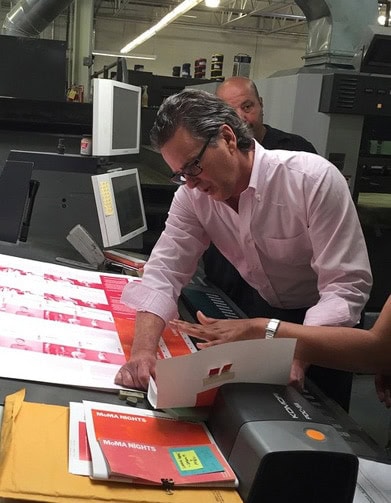 About Us
Thomas Group Printing NYC is a full service, commercial printing company with extensive experience in all phases of the printing process.We provide our clients with a broad range of sheetfed, web and digital print capabilities. Our state-of-the-art technology enables us to assist you with a wide range of products and services.
Since 1912, we've served some of New York's largest and most innovative companies with quality commercial printing services. We're proudly a fourth-generation family owned and operated company, so we know what it takes to earn and keep your business. 
Make an Impact with Print
In today's cluttered marketing environment you can still make a tangible, memorable impression on your customers with print. Convey your message in a durable, detail-rich format that they'll be able to hold, touch and share. Here are a few samples of projects our clients have created with us to do just that: