Annual Report Printing NYC
High-Quality Annual Report Printing, Right Here in NYC:
Your company's annual report reflects a year of your accomplishments. Trust Thomas Group Printing to ensure the print quality of your report matches the quality of your business. We're a family-owned, fourth-generation printer conveniently located in Manhattan and are capable of printing annual reports to your exact specs & quality needs. We offer fast, fully-custom annual report printing in NYC to meet any project's demands, budget, and quantity.
Annual Report Printing Examples
Our portfolio is full of high-quality annual report prints we've done for organizations across New York City. 
Print your annual report with Thomas Group
At Thomas Group Printing, we recognize that your company's annual report is one of the most important documents that you'll produce all year. An impactful annual report can showcase your company's strengths and share the story of where you've come from & where you're going. Let us help you produce a document that you'll be proud to share with stakeholders and employees. We have years of experience printing financials and high-quality graphics for public 10-K reporting, nonprofit annual reports, and more.
We offer a range of printing and binding services to produce a quality document that's printed to your exact specs. You'll be proud to share with stakeholders and employees, including:
Digital & Offset Annual Report Printing
Large & Small Print Runs
Full Variety of Paper Weights, Sizes, Finishes, and Bindings
All of our work is completely custom, so our experienced print team can work with your designer to proof, print and color-match annual reports of all sizes and specs. Additionally, our team of print professionals provide pre-press services to ensure a file is print-ready before going to print, assuring a quality final document with high-resolution photos and correct crop & bleed settings.
We've printed annual reports for organizations of all sizes and offer a number of fully-custom annual report printing options to meet your needs. Whether you need a large run of reports or a small quantity, Thomas Group Printing is capable of handling custom annual report printing jobs without an order minimum.
Binding Types for Annual Reports
We offer a full array of binding and finishing options for your annual report. Below is a general guide to some of the popular options for binding a document.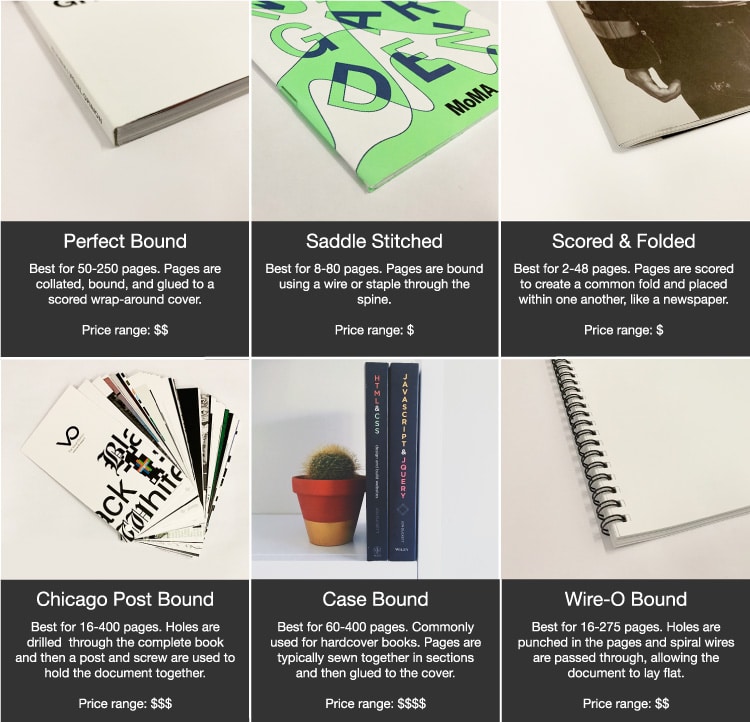 Fast Turnaround Times
If you need annual reports printed on a tight deadline, we can provide same day and next day print services. Our print team is available 24/7 by email to answer your questions and provide quotes on your annual report project.
Messenger Delivery In New York City. We Ship Nationwide.
Thomas Group Printing is conveniently located in Manhattan, so we offer messenger delivery to any address in the five boroughs. If your office is located outside of New York City, we're happy to provide fast shipping options to any US address.
To get a fast, hassle free quote on your annual report printing project, contact us at 212-947-6400 or fill out the form below.
Why Work with Thomas Group Printing?
We've been serving NYC's largest and most innovative companies with quality commercial printing services for four generations, so we have the experience and ability to make even the wildest projects a reality. We offer a few additional benefits for your convenience: 
Same Day Rush Printing
Need it fast? No problem. We move at the speed of the city. When submitting your project, ask us about our same day/next day printing options and we'll help you out with rush printing to bring your job from concept to reality quickly. 
Courier Delivery
Need your print job sent straight to your office? We provide our clients with courier delivery anywhere within New York's five boroughs. If you're located outside of the city, we ship nationwide. 
Pre-Press Services
With four generations of experience, there's little our seasoned pre-press team hasn't seen. We offer pre-press services to make sure your design files are in good working order before sending the job to press.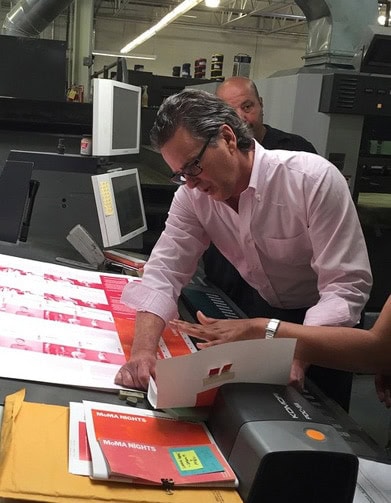 About Us
Thomas Group Printing NYC is a full service, commercial printing company with extensive experience in all phases of the printing process.We provide our clients with a broad range of sheetfed, web and digital print capabilities. Our state-of-the-art technology enables us to assist you with a wide range of products and services.
Since 1912, we've served some of New York's largest and most innovative companies with quality commercial printing services. We're proudly a fourth-generation family owned and operated company, so we know what it takes to earn and keep your business. 
Make an Impact with Print
In today's cluttered marketing environment you can still make a tangible, memorable impression on your customers with print. Convey your message in a durable, detail-rich format that they'll be able to hold, touch and share. Here are a few samples of projects our clients have created with us to do just that: