Quality Bookbinding, Fast & Local
Our bookbinding services can help you create and deliver specialty books for businesses and events of all kinds. We can work with you to provide the perfect bound book to clients, customers, stakeholders or guests. Some examples of books we can bind and finish include bound reports, portfolios and corporate presentations, gifts for special events, albums and journals for business or nonprofit use, scripts and musical scores, and professional legal and medical bookbinding for records, journals, cases and other documents.
Bookbinding Services
Whether you're having a book printed with us or elsewhere, our bookbinding services focus on getting the details just right, to create the high quality we're known for. We offer a wide range of bookbinding and finishing styles so that you can customize your book project from start to end.
Options include foil stamping or embossing on covers and spines, rounding corners, and several kinds of binding like perfect binding, saddle stitch, wire-o, tape binding, and Chicago post.
There's no limit on the number of books you can have bound, whether that's two dozen or hundreds. Small boutique bookbinding projects are welcome, as are large corporate ones. Our printing capabilities are highly flexible to fit your bookbinding needs. Large formats are also possible, and we can print materials in black-and-white or full digital color.
Examples of our bookbinding work: 
Types of Bookbinding
Softcovers can be perfect or square-bound, with covers of varying weight and size, depending on what fits your book the best. We also have coil bindings available if you are producing manuals, handbooks, cookbooks, scores and anything else that will be used frequently and needs to be able to lay flat when open. There are different weights and coil types available based on the size of your book when printed; talk to our experienced press team, and they'll make sure you have the best type of binding for your project.
If your project includes smaller book needs, such as booklets, custom catalogs, or playbills, we have a fast and cost-effective saddle-stitching option available. 
Our Approach
At Thomas Group, our mission is to offer our customers the best quality in bookbinding and printing services they can find in NYC. When you pick up a book we've made, we want you to be impressed with the attention to detail we give to every job. And coming in neck-and-neck with that quality promise is our dedication to customer service. We will work quickly and efficiently on your behalf until your bookbinding project is in your hands, just the way you want it. To make sure your order gets where it needs to go on time, we offer courier delivery from our Manhattan location to anywhere in NYC's five boroughs. If you're outside the city, we'll ship it fast, nationwide.
We've been in business since 1912 here and are in our fourth generation of family ownership, so we know just what it takes to do business at the speed of New York. We welcome you to read some of our customers' reviews to find out more about what to expect from Thomas Group Printing, or contact us online anytime with questions.
Why Print with Thomas Group?
We've been serving NYC's largest and most innovative companies with quality commercial printing services for four generations, so we have the experience and ability to make even the wildest projects a reality. We offer a few additional benefits for your convenience: 
Same Day Rush Printing
Need it fast? No problem. We move at the speed of the city. When submitting your project, ask us about our same day/next day printing options and we'll help you out with rush printing to bring your job from concept to reality quickly. 
Courier Delivery
Need your print job sent straight to your office? We provide our clients with courier delivery anywhere within New York's five boroughs. If you're located outside of the city, we ship nationwide. 
Pre-Press Services
With four generations of experience, there's little our seasoned pre-press team hasn't seen. We offer pre-press services to make sure your design files are in good working order before sending the job to press.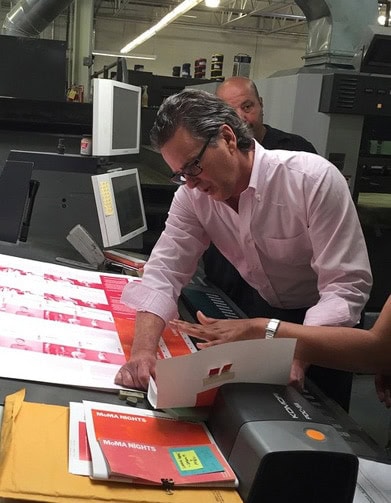 About Us
Thomas Group Printing NYC is a full service, commercial printing company with extensive experience in all phases of the printing process.We provide our clients with a broad range of sheetfed, web and digital print capabilities. Our state-of-the-art technology enables us to assist you with a wide range of products and services.
Since 1912, we've served some of New York's largest and most innovative companies with quality commercial printing services. We're proudly a fourth-generation family owned and operated company, so we know what it takes to earn and keep your business. 
Make an Impact with Print
In today's cluttered marketing environment you can still make a tangible, memorable impression on your customers with print. Convey your message in a durable, detail-rich format that they'll be able to hold, touch and share. Here are a few samples of projects our clients have created with us to do just that: