Professional Foil Stamping in New York City
Foil stamping, also known as letterpress foil stamping, is a versatile finishing technique that gives projects a lustrous surface finish. Foil stamping involves applying either a metallic or pigmented foil to the surface of a printed project in order to enhance the overall appearance and add a creative element to printed projects.
There are multiple types of foil printing available, and our team at Thomas Group Printing can help you choose the best finishing technique for your next project.
The Foil Stamping Process
Traditional foil stamping involves etching a design onto a metal plate called a foiling die, similar to a rubber stamp. Once the design is on the die, the die is heated up and a thin layer of foil is placed between the die and the substrate. The die is then used to apply pressure to the foil and the printed surface, which causes the foil to permanently adhere to the paper in the shape of the etched design.
It's possible to have multiple colors of foil during hot stamping services. To achieve this, multiple dies need to be made for each color and several runs of the press foiling machine are required to create the final design. Foils can also range from gloss metallics to matte finish depending on the level of shine desired. Foil stamping can add an additional element of professionalism and design to projects such as book covers and point of purchase materials including table tents, counter displays, and floor displays.
Types of Foils Used
Different types of foil can achieve different effects depending on the specifications of the project. Some of the most popular types of foils are:
Metalized foil. This material creates a shiny, metallic finish during the foil stamping process, with gold foil printing and silver being the most popular choices. 
Pearl foil is commonly used on wedding invitations and greeting cards for a pearlescent shine 
Holographic foil can produce 3D or rainbow-colored patterns and can be an ideal option for ID cards, credit cards, and print jobs that require security seals
Effects foils usually have multiple colored tones or patterns such as sparkles, stripes, and light diffractions
Scratch-Off foils are meant to be only temporarily adhered to the surface and are meant to conceal sensitive information. This type of foil is commonly found on lottery tickets and phone cards. 
The type of foil stamping that's best for your project will depend on many factors, and we're here to help you plan your project to perfection every step of the way. 
The Thomas Group Printing Difference
When it comes to professional printing in NYC, Thomas Group Printing specializes in a broad range of sheetfed, web, and digital print capabilities for the modern business world. We are fourth generation family owned and operated, so we know what it takes to adapt and make your business stand out. Reach out to us today to find out more about adding foil stamping to your project and what foil options are available. 
Ming Fearon
15:21 05 Jan 23
Emphatically 5 stars! Gorgeous results, great prices, fast turnaround. They are a super responsive, kind, and flexible team. Highly recommend
Lauren Galaz
16:47 21 Dec 22
I needed a print for an A-frame in a crunch, and Rory exceeded expectations with great service and a quick turnaround! The product itself was of exceptional quality & the customer service was 5 stars.
Thomas Group Printing were extremely responsive and collaborative to my initial outreach, ideation of book creation, and ensuring my tight deadline could be made.All of the interpersonal excellence though was outshined by the end product. The book looked great and my vision from cover to images to text was manifested phenomenally. I couldn't have asked for a better print job. Many thanks to the team and all I worked with.
Lauren Schmitt
14:34 11 Nov 22
Thomas Group Printing was absolutely fantastic to work with. My company had a tight deadline to have 150 booklets created and TGP completed the task with ease. They we're also very patient with teaching me how the page formatting aligns, as someone who does not have past experience. Looking forward to using TGP again in the future. Highly recommend!
Absolutely an amazing group to work with! Responsive, professional, and helpful.
Cara Zhuang
14:39 31 Oct 22
Clanci Jo Conover
21:20 26 Oct 22
TGP saved us in a crisis! Due to unpredictable circumstances, our art gallery wasn't able to send our catalog to print as early as planned, and ended up on a serious time crunch to get the project done for an upcoming event. Glen and Rory helped me get the files print-ready and met our deadline with little stress. The final product was exactly what we needed and the team was great to work with start to finish. Thank you!!
Trish Rothberg
17:52 12 Oct 22
The Thomas Group printing did an amazing job for our film opening last weekend, the prints were gorgeous, got delivered on time and was a rush, no problem, they handled it beautifully. Highly recommend. And such a wonderful staff!
Betty Mintz
15:16 10 Oct 22
Cow Neck Peninsula Historical Society, recently had the opportunity to work with Thomas Group Printing for an exhibit catalogue. Pre-press customer service was outstanding. All of our questions were answered, and files tested to ensure quality printing. The print and bind exceeded our expectations. Color was clean and consistent throughout the run. We recommend Thomas Group Printing and will work with them again.
Alison Sullivan
21:13 03 Oct 22
My company got catalogs printed here and we are very pleased. The product quality is excellent and they were very communicative during the whole process
They did a great job printing on a short timeline!
laura haun
16:27 03 Oct 22
We recently changed to The Thomas Group Printing for our printing needs and couldn't be happier! Each and every person I speak to is very helpful and friendly. The print jobs are professional in every way and delivery is prompt. I would highly recommend Thomas Group Printing!
Josh Thorne
15:27 03 Oct 22
We have printed multiple projects with Thomas Group Printing and they have consistently provided excellent service and high quality finished products. They are very responsive and have fast turnaround time which is crucial when dealing with tight deadlines. We will definitely be using them again and would definitely recommend for any print needs!
Kara Pound
15:11 03 Oct 22
I was looking for a printer in NYC for one of my clients and came across Thomas Group Printing. Not only were they the first company to get back to me with an estimate for my project, but they were in constant contact to ensure that our brochure printing went smoothly and everything turned out exactly as we were hoping for. Great family-owned business!
Prompt and high quality. We will be using them again.
Addison Heeren
14:05 03 Oct 22
So quick to respond and deliver a top notch product. Glen and Rory are both so easy and nice to work with. Thank you!
Will Unseld
21:42 02 Oct 22
Fini Pizza
21:41 02 Oct 22
For years we had a vision for our pizza boxes and Thomas Group Printing absolutely nailed it in terms of quality, quantity and customer relations. Would recommend to anyone!!!
Terrific service. Fast and beyond expectations in terms of quality.
Aron Westman
13:36 30 Sep 22
It's always a perk to be able to work with a family-owned business, but the Thomas Group sets themselves apart from the competition on so many other levels. From the moment I reached out with questions through the point of having our newsprints in-hand, Rory was incredibly polite, timely, and accommodating in all requests. The cost was more than fair and the color and paper quality were excellent. I will definitely go to the Thomas group for future projects and recommend them to anyone in need of newsprint-style printing.
Samantha Treiman
17:47 19 Sep 22
Rory and his team were so fantastic and easy to work. We were so happy to connect with this company for all of our NYC printing needs!
Marc Baill
20:20 09 Sep 22
Rory and his team knocked it out of the park -- nothing they can't do. Very professional team with a great turn around and awesome quality. Can't wait to work with them again.
Nicole Gavrilles
21:04 02 Sep 22
I had such a lovely experience working with Thomas Group Printing!! I highly recommended their level of craft, care for printing perfection, and their sustainability printing practices. I ordered copies of my magazine and they were so thoughtful and super communicative throughout the entire process. They worked perfectly within the deadline I needed the copies by and made the entire experience super seamless. I highly recommend working with them and will definitely be working with them again!
Sam Bhagwat
04:51 24 Aug 22
With an industry conference coming up in 10 days in Manhattan, I needed to print 125 copies of a book I'd written. Rory and Thomas Group came through -- we had a couple back and forths over email and they got the books printed in 3-4 days, well in advance.I took a redeye to Newark, picked up the books from their office, then headed to the event, and it was a big success. Thank you!
Raelen Todd
18:06 23 Aug 22
Very responsive and helpful throughout the entire process. Will continue using them for future endeavors!
Richard Green III
19:16 09 Aug 22
In an age when printers are closing up left and right, Thomas Group Printing is standing strong and was able to offer my company, Ideal Jaocobs Corp, competitive pricing, fast turn around time, and a high quality product with ease. We ask a lot from our suppliers because we demand a lot from ourselves for our customers. It's very much appreciated when those we partner with share the same values.
Jacqueline Shafer
14:36 09 Aug 22
Great quality and service! Will definitely use this company again.
Sadia Sharmin
11:32 04 Aug 22
Had a great experience recently working with Rory and team getting a quick turnaround for catalogs before an event. Would definitely recommend!
Kevin Brayer
19:55 03 Aug 22
Excellent service and product!
Ella Peters
18:19 03 Aug 22
In printing a Lookbook, Thomas Group Printing has exceeded our expectations. The final product was beautiful and such a hit with our company. Rory was our main point of contact and he was responsive and helpful from beginning to end. We have decided to use them a second time after such a great first experience. Will definitely continue to use them in the future and cannot recommend them enough.
photo douglas
13:49 03 Aug 22
Rory and Glen were a great help. They got photo magazines done quickly and cheaply. They also provided critical guidance in areas where I didn't have expertise. Extremely flexible and helpful.
Susan Winkler
12:44 03 Aug 22
Always best-in-class final product, the CT Insurance Market Brief, and on-time customer service. Two really critical parts of business, high-quality and professional customer service. It's the reason that CT Insurance & Financial Services [CT IFS] is a repeat customer.
Emily Schallert
17:59 01 Aug 22
Our company purchased a large custom order from the Thomas Group for prints to be used at a tradeshow. The quality and customer service was superb !! Thank you so much Rory and team.
Sterling Mahoney
16:51 31 Jul 22
I had a last minute printing request that needed a really quick turnaround. The folks here were quick to respond and were able to get what I needed printed and delivered within my timeline, all at an affordable price! I really appreciate the work they did - Thank you Glen and Rory!
Klaudia Bouzyk
02:08 28 Jul 22
Thomas and Rory did an amazing job with my letterpress wedding invitations!! They got everything right down to the last detail (even met with me in person to review some samples). Highly recommend them for your printing needs. 👏🏻
ChanHo Park
22:16 27 Jul 22
We needed a couple large vinyl banners printed within a day, Rory at the Thomas Group was very responsive. He got me a quote within minutes, and the banners were ready for pickup within 24 hours. They were great, and all of the questions we had throughout the process were answered promptly. Will definitely use their services again.
Inga Odette
20:55 25 Jul 22
We printed our very first zine at Thomas Group printing and they gave us an amazing service from day one. They gave us advice on everything from what paper would be best for us to use, and what binding would be good for us. Very responsive, fast turnaround time and easy to communicate with them. We are so happy with the result. Will definitely use them again!
Paula Growden
17:54 25 Jul 22
Went above and beyond under a short deadline.
A Google User
16:26 21 Jul 22
Thoughtful, accommodating, highly responsive. I am very much enjoying working with the team here. I recommend Thomas Group Printing!
The Soho Review Humor Magazine
00:46 22 Jun 22
These guys were absolutely great. The printing was a really high quality and for a great price. The team were really quick to answer tons of little questions along the way (it was our first issue) and turned everything around really quickly after the payment was made for the order. Would 100% recommend them for any project.
Andrew Marc Edelman
00:39 22 Jun 22
Huge thanks to Glen and Rory who worked with a really short timeline and delivered incredible double mounted invitations pressed with foil, custom printed matching envelopes and an insert. TGP surpassed all expectations.
Karl Brisseaux
19:18 20 Jun 22
Excellent service and fair pricing for a quick turnaround print job. Found them on Google and was sold by the reviews. They did not disappoint!
Jordan Star
19:11 20 Jun 22
Fast turnaround and great service!
Liz Oeftering
15:06 20 Jun 22
We had a last minute request with a quick turnaround and they not only communicated quickly and met our tight deadline, but the print piece looked amazing!! We will definitely be using them again in the future!Super recommend!!
Amy DiGiacomo
14:59 18 Jun 22
This is a solid NYC company that just knows what they're doing. They helped me out with a very last minute order for film posters and made the experience completely stress free, recommending the appropriate paper, and offering a courier service to the theater. Great communication, quick turnaround and quality product.
Maddalena D'Alvia
13:42 17 Jun 22
Kateryna Czartorysky
17:02 15 Jun 22
Great quality printing and reliable customer service.
Yannik Stevens
15:20 02 Jun 22
So great to work with. Fast turnaround and lots of clear communication throughout the process.
Andrea Hodgson
20:58 20 May 22
We are really happy with the timing and quality of the printing job that Thomas Group Printing did for us! They were very responsive to questions and work with us on a very tight timeline. We are appreciate of their efforts and will certainly come back to them when additional printing projects!
Why Print with Thomas Group?
We've been serving NYC's largest and most innovative companies with quality commercial printing services for four generations, so we have the experience and ability to make even the wildest projects a reality. We offer a few additional benefits for your convenience: 
Same Day Rush Printing
Need it fast? No problem. We move at the speed of the city. When submitting your project, ask us about our same day/next day printing options and we'll help you out with rush printing to bring your job from concept to reality quickly.
Courier Delivery
Need your print job sent straight to your office? We provide our clients with courier delivery anywhere within New York's five boroughs. If you're located outside of the city, we ship nationwide.
Pre-Press Services
With four generations of experience, there's little our seasoned pre-press team hasn't seen. We offer pre-press services to make sure your design files are in good working order before sending the job to press.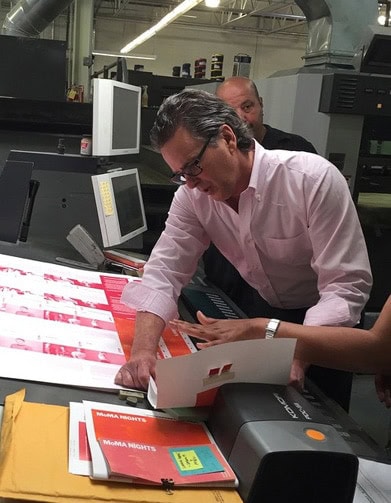 About Us
Thomas Group Printing NYC is a full service, commercial printing company with extensive experience in all phases of the printing process.We provide our clients with a broad range of sheetfed, web and digital print capabilities. Our state-of-the-art technology enables us to assist you with a wide range of products and services.
Since 1912, we've served some of New York's largest and most innovative companies with quality commercial printing services. We're proudly a fourth-generation family owned and operated company, so we know what it takes to earn and keep your business. 
Make an Impact with Print
In today's cluttered marketing environment you can still make a tangible, memorable impression on your customers with print. Convey your message in a durable, detail-rich format that they'll be able to hold, touch and share. Here are a few samples of projects our clients have created with us to do just that: