Professional Foil Stamping in New York City
Foil stamping, also known as letterpress foil stamping, is a versatile finishing technique that gives projects a lustrous surface finish. Foil stamping involves applying either a metallic or pigmented foil to the surface of a printed project in order to enhance the overall appearance and add a creative element to printed projects.
There are multiple types of foil printing available, and our team at Thomas Group Printing can help you choose the best finishing technique for your next project.
The Foil Stamping Process
Traditional foil stamping involves etching a design onto a metal plate called a foiling die, similar to a rubber stamp. Once the design is on the die, the die is heated up and a thin layer of foil is placed between the die and the substrate. The die is then used to apply pressure to the foil and the printed surface, which causes the foil to permanently adhere to the paper in the shape of the etched design.
It's possible to have multiple colors of foil during hot stamping services. To achieve this, multiple dies need to be made for each color and several runs of the press foiling machine are required to create the final design. Foils can also range from gloss metallics to matte finish depending on the level of shine desired. Foil stamping can add an additional element of professionalism and design to projects such as book covers and point of purchase materials including table tents, counter displays, and floor displays.
Types of Foils Used
Different types of foil can achieve different effects depending on the specifications of the project. Some of the most popular types of foils are:
Metalized foil. This material creates a shiny, metallic finish during the foil stamping process, with gold foil printing and silver being the most popular choices. 
Pearl foil is commonly used on wedding invitations and greeting cards for a pearlescent shine 
Holographic foil can produce 3D or rainbow-colored patterns and can be an ideal option for ID cards, credit cards, and print jobs that require security seals
Effects foils usually have multiple colored tones or patterns such as sparkles, stripes, and light diffractions
Scratch-Off foils are meant to be only temporarily adhered to the surface and are meant to conceal sensitive information. This type of foil is commonly found on lottery tickets and phone cards. 
The type of foil stamping that's best for your project will depend on many factors, and we're here to help you plan your project to perfection every step of the way. 
The Thomas Group Printing Difference
When it comes to professional printing in NYC, Thomas Group Printing specializes in a broad range of sheetfed, web, and digital print capabilities for the modern business world. We are fourth generation family owned and operated, so we know what it takes to adapt and make your business stand out. Reach out to us today to find out more about adding foil stamping to your project and what foil options are available. 
Tomas Reimer
21:15 16 Mar 21
Excellent quality printing, very fast and easy communication! We love the books we got.
Amy Branzuela
14:41 05 Mar 21
As a restaurant group, we are always fast tracking ideas and Rory and Team have responded with us giving us the opportunity to succeed during this unprecedented time. From clear communications to consistently delivering quality final product, we trust their services.
Theresa Rivera
19:34 02 Mar 21
HUGE thanks to Thomas Group Printing for delivering gorgeous, custom booklets with a super tight turnaround (and for a great price). Rory and the team were quick to reply to emails/calls and communicated clearly. Our client was so happy with the result and we can't wait to work with TGP again soon!
Marie Scoutas
20:14 01 Mar 21
Having worked with several printers in New York over the past few years, we were thrilled to find this gem. Had an excellent experience printing a 100 page magazine for a client who was thrilled with the quality of the finished product. Thanks to Rory, Glen and James for their design support, responsiveness and attention to detail. We will be back.
Emma McHugh
22:32 22 Feb 21
The Thomas Printing Group was a joy to work with. Their products are beautiful but just as important- they are incredibly responsive, easy to get on the phone and work within your tight time lines. I look forward to working with them again in the future!
Cornelius Lafayette
15:27 22 Feb 21
Rory @Thomas Group Printing was GREAT! He was very helpful and patient. The quality and turnaround time…amazing and they really care about their customers. I can't wait to work with them again!!!THANK YOU THP 🙂
Sharon Hartzell
04:28 09 Feb 21
Rory from Thomas Group worked with me on a tight timeline to get my order done. It was high quality and professional, and they were both easy to work with and reasonably priced! I would highly recommend to anyone looking for a print job in New York.
Our experience with Thomas Group Printing was excellent. Their customer service rep responded promptly and was very communicative and helpful. We will definitely be using them again for new backdrops for future events.
Sapna Parekh-Balkarran
16:12 29 Jan 21
Rory at Thomas Group Printing made the entire order process seamless, from understanding and asking the right questions about our project, to proofing, to production and delivery - everything went smoothly. Their responsiveness and level of customer service speaks volumes. I highly recommend their print services and I look forward to working with Thomas Group Printing on our future projects.
Big Crown Records
15:22 19 Jan 21
Rory and Co were an absolute pleasure to work with. The books they printed for us came out amazing and they were super helpful with getting us exactly what we wanted. Highly recommended.
The team was very prompt and professional in all communication, and they did awesome work on our booklet. The price was very reasonable. We were happy to work with a family-owned-and-operated shop, and will definitely print with TGP again.
Jazlyn Patricio-Archer
18:20 15 Jan 21
Rory is incredibly responsive and professional! Thomas Group Printing continually provides a top quality service at prices that are in reach for small businesses like mine. We really love working with them on everything from booklets to flyers! Thank you!
veronica gedrich
21:31 08 Jan 21
Thomas Group Printing couldn't have been more helpful and professional. The final product was stunning, much more polished than we had anticipated.
William Kannar
23:33 05 Jan 21
I was very satisfied with every aspect of my experience here. Rory was professional and responsive. Highly recommend!
Sanghee Han
00:19 07 Oct 20
Great working with Thomas Group Printing. They're very communicative throughout the whole process from start of the packaging project to post-production, and it's very clear they care about quality of work. We were able to meet a tight deadline thanks to Rory and team. Thank you!
Hannah Rosenthal
15:10 01 Oct 20
Very easy and pleasant to work with, especially facing a quick turnaround time.
Isabelle Tietbohl
19:30 22 Sep 20
Thomas Group Printing is incredibly professional and the execution of their design is really top tier. They worked with our designers to ensure that a continuous image for the front and back cover would read well in print. They're so easy to work with, and were even able to make last minute changes for us. Best value printing I've experienced in New York- delivering really high-quality print jobs with incredible turn-around times. Very willing and able to make tough deadlines, and
sophia kalinowska
01:59 15 Sep 20
Thomas Group Printing has impressed me soooo much. My project came out even better than I imagined! I was totally new to this whole process, and Rory was so patient with me and as helpful as possible. I will be coming back here for sure to print my next zine!
Justyna Krygowska
02:29 13 Aug 20
I would highly recommend Thomas Group Printing. I recently worked with TGP on an annual appeal mailing. They were patient, professional, and helped me produce a high-quality mailer that was affective, delivered on time,and within budget.
Everyday Oil
19:04 02 Jul 20
Great experience working with Thomas Group - very responsive, affordable, good quality. Thank you!
Christine Huey
16:12 12 Mar 20
fast and easy to work with!
Audrey Lee
17:00 03 Mar 20
Absolutely the best! Rory & Glen answer all the questions I have and manage to work around my timeframe and last minute edits. Also, the color matching is top notch! I can always count on them!
Sara Glick
22:44 25 Feb 20
Thomas Group Printing has gone above and beyond for me, always delivering the best printing in town. I have used them several times and highly recommend them for small and large jobs. I really appreciate that they are a family business and do such high quality work. They are my secret weapon.
Lauren Coons
18:54 11 Feb 20
The Thomas Group was able to print our programs for us on a VERY tight deadline and they were PERFECT!! They were super helpful and responsive with me for any issues or errors that were in my file, and really went above-and-beyond to make sure that my programs would be printed and delivered on time! I will definitely be using them in the future!
Pasang Sherpa
13:02 04 Feb 20
Risa Wallberg
17:06 30 Jan 20
Good, courteous customer service. They supplied quotes and print job was timely and perfect.
Stephanie Arevalo
17:56 17 Jan 20
Our organization's go-to printer service. Fast turnaround, reliable, and better priced than most in the city. Highly recommend!
Olivia Ries
21:41 16 Jan 20
Great service and best pricing for amazing quality! Was looking to change print companies for a while now and TGP delivered. Rory was really helpful through the whole process and got our finished product to us quickly!
Julia Delaney
18:36 13 Jan 20
Love love love everything about Thomas Group. Turned around hundreds of calendars for me super quickly–– really helpful and communicative. High quality at a great price. Rory is also amazing. Can't say enough good things about my experience working with them.
We needed calendars made for a charity project my company was putting together, and now I'm confident we'll never need to look elsewhere when we do this again. Rory was immensely helpful every step of the way. As someone who really had no idea what I was asking for on a technical level, they were able to explain every detail to me in simple terms and we couldn't be more thrilled with the finished product! I could not recommend Thomas Group Printing any higher and I look forward to doing business with them again soon.
My team and I worked with Rory for the first time on a large day-of printing job. He was extremely responsive, friendly, and super accommodating in delivering our prints to us in person. We were very happy with how the prints turned out and would highly recommend to anyone!
Emily Horn
19:55 21 Nov 19
We have worked with Thomas Group Printing for a few years now and are so happy with the work they have done. The final product always looks beautiful and they work with us on our (small business) deadlines (aka always last minute.) It is always an incredibly professional experience and we highly recommend them to anyone that has printing needs.
Eric Zimmer
15:42 17 Oct 19
This place is amazing! I worked with Rory for a massive print job at my job and he was extremely professional, knowledgable, accommodating and responsive. Excellent quality, timely service, and just a great experience all around. Highly recommend Thomas Group Printing if you need something done well!
African Voices
10:10 11 Sep 19
The Thomas Group was excellent to work with and made our print job simple and seamless from start to finish. African Voices literary magazine has been publishing for 27 years and the Thomas Group lived up to our expectations delivering a quality print job to our satisfied subscribers! Cheers to Rory Thomas for your service and dedication to publishing!
We've been working with these guys for a couple of years and have no plans of changing print agencies. They're super responsive and produce quality results all the time. From simple postcards, to full books, to delicate tissue paper - they do everything. Very easy to work with and they probably have one of the most competitive prices in NYC.
Kelsey Lim
23:04 10 Jul 19
From the start of my project to after its completion, Thomas Group Printing impressed me every step of the way. They were able to complete my project on a very tight timeline, and I was so happy with not only the final product, but also the level of communication and customer service they provided. I will definitely be using them for projects in the future!
Brit Ashcraft
20:23 13 Jun 19
Love working with Thomas Group. I have worked with them multiple times and just wrapped up a book and postcard project with them – they are gorgeous. The print quality for the images was the best we've ever achieved. Both pieces went over well with everyone, but the book stood out and our COO even took it and used it as an example to the whole company for what a premium marketing material is and how valuable it is to the organization. They are lovely to work and always flexible and helpful.
Meaghan McFarland
17:59 03 Jun 19
We had a great experience working with Thomas Group Printing! We ordered 200+ 11x17 spiral-bound copies of a white paper/research study that we release every year. The paper quality, color printing, and binding options were great. Originally, we had contacted 10-20 different printers to find the right fit for us and the TGP was the best option. Their customer service was also lovely - Rory followed-up regularly, was patient as we made various decisions about binding and quantity, and helped us create an amazing piece that we are proud of.
Hyland Murphy
15:06 15 Apr 19
Rory and team did an amazing job with our printing. They were so fast and were more than capable of delivering on my nearly impossible deadline. Everything turned out beautifully as well.
Leigh Moose
15:58 01 Mar 19
Cannot imagine a more positive experience! They walked me through the whole process and delivered quickly!! Customer service is TOP NOTCH!!
Margot Bird
19:07 28 Feb 19
Everyone was incredibly helpful in a complicated project that other printers wouldn't touch!
Tiana Tenet
18:12 27 Feb 19
Rory & his team just make it happen! We had a really tight deadline and they were incredibly flexible and communicative throughout the process. Not to mention -- the print is amazing!! The quality & feel is exactly what we were aiming for!
Vanessa Anderson
04:11 27 Feb 19
Working with Thomas Group is always a pleasure! They are receptive to all client needs and feedback, not to mention they are total rockstars when it comes to being timely and professional. My team worked closely with Thomas Group to produce a zine and all of our hard work was represented beautifully in the final product. I would absolutely work with them again and highly recommend !
Tessa Lechleider
03:47 27 Feb 19
Thomas Group goes above and beyond to make your product special. Rory and his team worked tirelessly to print my zines as fast as they could and worked in a very short 3 day time frame. They are rockstars and I couldn't be happier with the entire experience- customer service, friendly people, great products.
Jill Donenfeld
02:28 27 Feb 19
Best customer service + most beautiful printing job. Look no further. They are the best and they are the sweetest. We printed an 84 page zine with them and it turned out so beautifully -- don't go anywhere else for this kind of work.
Tara Mohtadi
19:47 23 Jan 19
We are a small design firm, and just started using the Thomas Group a few months ago, after some disappointing results with our longtime printers. We couldn't be happier with our switch to the Thomas Group. Rory and Glen are extremely communicative and accommodating, and are able to work quickly on tight deadlines, while keeping a very high level of quality. We are excited to continue our relationship with them, and would recommend them to anyone.
Jenya Beilin
05:18 15 Jan 19
I had an urgent request to print brochures for a conference, and Rory and his team were super fast responding over emails to accommodate my request.Not only Rory printed the brochures within couple of hours, they did the extra mile and delivered those to the hotel I was staying in.The brochures came out exactly what I was expecting.Next time I need a printing service, this is the place for sure.
Giuliana Rank
21:19 08 Jan 19
Rory couldn't have been nicer. They did a good job with our prints. I recommend.
Why Print with Thomas Group?
We've been serving NYC's largest and most innovative companies with quality commercial printing services for four generations, so we have the experience and ability to make even the wildest projects a reality. We offer a few additional benefits for your convenience: 
Same Day Rush Printing
Need it fast? No problem. We move at the speed of the city. When submitting your project, ask us about our same day/next day printing options and we'll help you out with rush printing to bring your job from concept to reality quickly.
Courier Delivery
Need your print job sent straight to your office? We provide our clients with courier delivery anywhere within New York's five boroughs. If you're located outside of the city, we ship nationwide.
Pre-Press Services
With four generations of experience, there's little our seasoned pre-press team hasn't seen. We offer pre-press services to make sure your design files are in good working order before sending the job to press.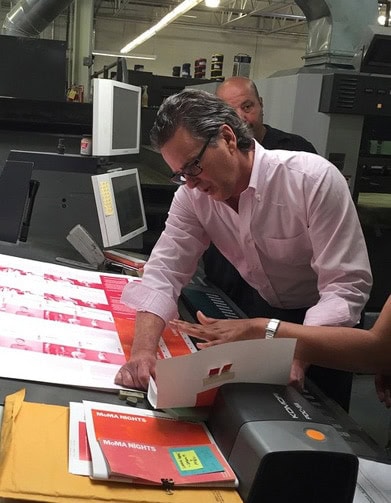 About Us
Thomas Group Printing NYC is a full service, commercial printing company with extensive experience in all phases of the printing process.We provide our clients with a broad range of sheetfed, web and digital print capabilities. Our state-of-the-art technology enables us to assist you with a wide range of products and services.
Since 1912, we've served some of New York's largest and most innovative companies with quality commercial printing services. We're proudly a fourth-generation family owned and operated company, so we know what it takes to earn and keep your business. 
Make an Impact with Print
In today's cluttered marketing environment you can still make a tangible, memorable impression on your customers with print. Convey your message in a durable, detail-rich format that they'll be able to hold, touch and share. Here are a few samples of projects our clients have created with us to do just that: