Full Bleed Printing Instructions: How to Print Without Margins
When the time comes to print your project, there are a couple of important considerations that make a big difference in the quality of your final document. One of the most important considerations you can make in planning your project is whether or not to print in bleed. If you've been planning to professionally print a document, you've probably come across the terms "full bleed" and "no bleed". Unless you're well-versed in printing, you may not know what either means, or what effect they may have on your project. At the end of this blog post, you should have a much better understanding of what bleed is, how it affects your project, and how to correctly set bleed in your document.  
What is bleed in printing? 
In basic definitions, full bleed printing is used when a project calls for a printed image or document to have no margins, or in other words, when the printed color & images extend all the way to the edge of the paper. In practical terms, printing equipment can't actually print all the way to and edge of a sheet of paper. Since something needs to hold the paper in place, unfinished print jobs, or jobs produced without bleed, will usually have a white border around each page. If a project calls for color and images to extend all the way to the edge of the document, otherwise known as printing in bleed, the white unprinted edges of the document are simply trimmed off. 
Simple enough, right? In practice, mistakes involving bleed are very common. In fact, incorrectly set bleed is one of the most common mistakes we see in the files we're sent. If you want to ensure that your file is printed correctly and avoid any unplanned delays for file adjustment in pre-press, there are a few simple steps you can take to understand how printing in bleed works and what it means for how you set up your document. 
What do I do to get a full bleed project ready?
We mentioned above that printing a full bleed project might require the customer to give us a certain kind of file to get the job done right. It's an easy process to change a few settings from your normal print settings. The primary change is setting the bleed details for your document or project. This varies depending on what software you've created the file in. Since most of our projects are created in Adobe InDesign, we'll share the steps for setting bleed in InDesign below. (If you're using Illustrator, find instructions on how to set bleed here. Or if you're using Photoshop, you can follow these instructions instead.) 
If you know you want a document full bleed ahead of time, you can set this when you first create the file in InDesign. When you first create your document, select the Print option and select your paper size. It's under Print, then Preset Details, and near the bottom of the options are "Bleed and Slug". Simply set the top, bottom, left and right fields to include a 0.125 (⅛ inch) bleed.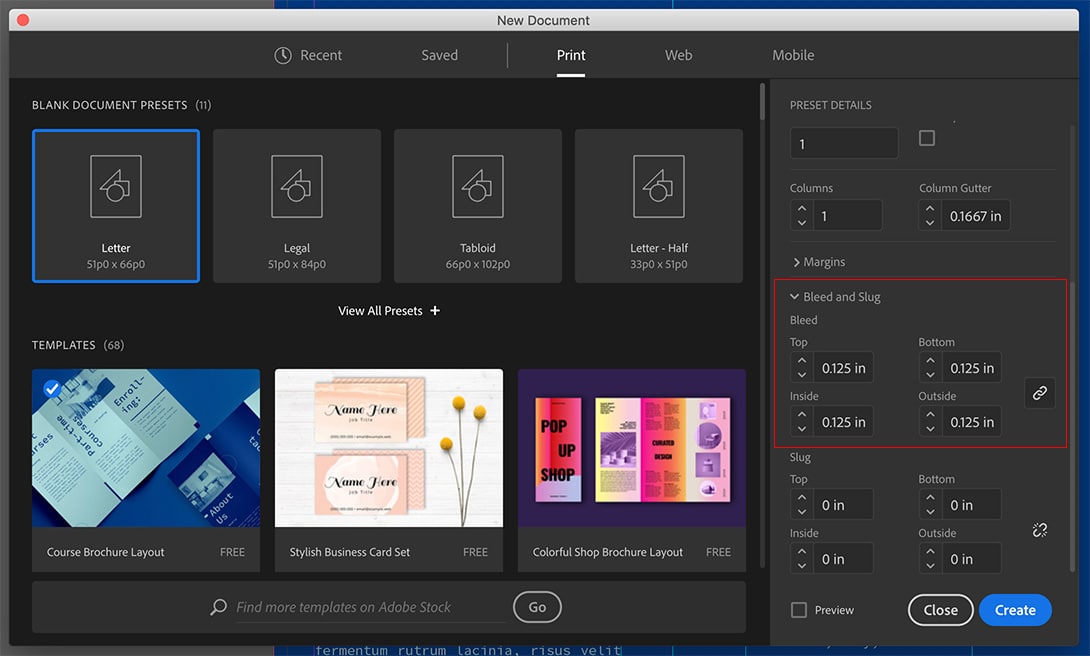 If your document is already set up and you want to add bleed after the fact, just go to File > Document Setup. Set the top, bottom, left and right fields to include a 0.125 (⅛ inch) bleed under the Bleed and Slug options:
Now we've created bleed guides on your document, so a red line should appear on the canvas ⅛ of an inch off the side of your document. If you don't see this, press W on your keyboard to reveal your guides. You should see a trim line in black, which will be the edge of your finished document. Beyond the trim line, your bleed guides will be shown in red. 

Simply setting bleed in your document settings often isn't enough. In order to get our document to print correctly, we may need to make some changes to the file. Lots of designers set bleed, but then forget to extend their artwork past the trim line to the bleed guide. Before sending it to the printer, be sure that the artwork you want full bleed is aligned to those bleed guides outside the trim. Your photos, artwork and background colors all need to extend to the bleed line. With InDesign, the image or object should snap right to the guide lines when pulled to them. 
Below is a visual to help. This is an example of a document that has incorrectly set bleed. Since the photo doesn't extend past the trim line, the finished product may have white space around the outside edges of the photo. 

Below is an example of how that same photo should look. To ensure the photo prints all the way out to the edge of the document, just make sure it extends out to the bleed lines. It's also important to make sure any important artwork stays inside of the trim line, as anything between the trim and bleed lines will be cut off during printing. 

After you've gone through your document to ensure that all artwork, background colors and photos extend to the red bleed line, you're ready to export your file for print. Be sure the right options are chosen when you export your file as a PDF to the printer. 

During the export, check the box that says "All Printer's Marks" to ensure that all of the information the printer needs will be included in your exported file. Under Bleed and Slug, check "Use Document Bleed Settings" to carry your bleed settings through into the exported PDF. This should ensure everything appears just as you want it to on the page. Make sure that the offset area is greater than or equal to the bleed, otherwise your crop marks might show on your final document. 
Is full bleed printing right for my project? 
Thomas Group has every solution you may need for your edge-to-edge printing desires. With cutting-edge digital printing that is capable of everything from small projects to large-format printing jobs, our company is able to create the prints you need at the sizes you want. Our printing processes are consistent, there's no minimum or maximum order, and we offer the highest-quality finished products in the business. We can print on a wide variety of materials, including vinyl, canvas, all types of paper and cardboard. Whether full bleed or no bleed printing is your final choice, we'll have you covered.
The easiest way to find out which options best suit your project is to contact Thomas Group and let our experts help you to find what will work well for your needs, and to help you achieve the best print job possible. Our staff can help you with details like what file format will work best, as well as what finishing options might work best for your project. With some of the most experienced workers in the industry and decades of NYC printing behind us, Thomas Group can offer customers a variety of options on almost every print project.
About Our Scholarship: Over the last several months, Thomas Group Printing has been accepting applications for our inaugural print design scholarship, a $1,500 award we'll give annually to a promising design student. In order to apply, students sent us a project they...